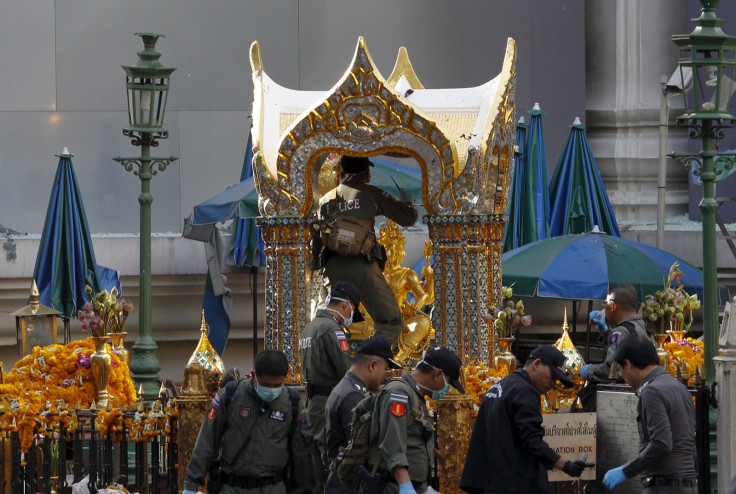 While Thailand's authorities are busy trying to track down the main suspect of the Erawan shrine bombing in Bangkok, social media users are using the internet to crowdsource the suspect. Police have appealed for calm after an Australian model and actor Sunny Burns was falsely accused, AFP reported.
Burns, 26, who has similar dark wavy hair and glasses as the suspect in the security footage, had to seek help from Bangkok police after netizens named and shamed him online. "Many social media outlets released my photo in Thailand saying that I was a suspected terrorist as I looked like the suspect in question," Burns said on his Facebook account on 19 August. "All my private information from immigration was leaked online and people were looking for me - They even knew my home address," he said, adding that he has also received death threats.
Burns, who also works as a private English tutor, had posted a selfie on the day of the bombing on Instagram to let his parents and friends in Australia know that he was safe, Singapore Straits Times reported. Ironically, he also posted a photo of himself at the Erawan Shrine, the scene of the Monday night blast which he had visited a few days before on Instagram, saying: "Thailand is and will always be a safe and friendly place."
National police spokesman Prawut Thavornsiri confirmed to AFP that an Australian was briefly questioned and released. Thai Prime Minister Prayuth Chan-ocha had on 18 August, called on social media users, as well as traditional media, to avoid writing anything which "may have a misleading effect on ongoing investigations and create misunderstandings in our society."
Internet savvy Thais have been using the hastag #bombercluephoto to collage images taken in the area where the bomb exploded. "All camera around there before bomb. Please share and hastag," wrote a Thai twitter user @Khemkrithera in English, AFP said.
Another post, which the news agency said was heavily retweeted, carried similar calls in Thai, English, Korean and Japanese to submit any footage to the police. Netizens are hoping that the suspect was captured on camera by someone. Others have focused their probes on the T-shirt worn by the suspect, with one Facebook user claiming it looked similar to one sold in Indonesia.