An unidentified man carrying explosives was shot dead by Bangladesh security forces early on Saturday (18 March) when he tried to cross a security checkpoint in Khilgaon near capital Dhaka.
The Rapid Action Battalion (Rab), which operates the checkpoint, said that two hand bombs were recovered from the man. Two members of the force were also injured in the incident.
The incident took place a day after an Isis suicide bombing attack on a temporary camp of the elite security force. However, the force is yet to ascertain if the man had links to the Friday suicide bombing incident that left two officers injured.
Rab Commanding Officer Lt Col Tuhin Mohammad Masud reportedly said on Saturday that the man with explosives was riding a motorbike and tried to pass through the Rab 3 check post in Shekher Jaiga area around 4.35am local time (10.35pm GMT the previous day).
"The elite force was forced to shoot him as he did not stop even after repeated signal. Two hand bombs have been recovered from his bag. The bomb disposal unit is trying to defuse the bombs," he added.
Masud also said that they were not sure if the man had any link to the suicide bomber who blew himself up near the temporary Rab camp in Ashkona Hajj Camp area. Isis had claimed that the bomber was one of its supporters.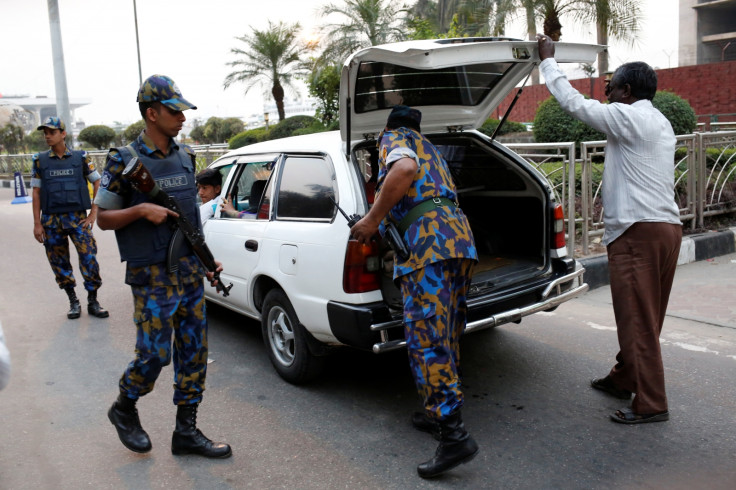 The suicide attack came two days after the Islamist militant group called on its supporters in Bangladesh to carry out suicide bombing assaults, the Dhaka Tribune wrote.
Meanwhile, the Khilgaon area checkpoint was cordoned off following the incident, Rab 3 assistant director ASM Sakhawat Hossain told the publication.
The country was on red alert following the recent suicide bombing incident and Isis threats, with security tightened at airports and other crowded areas. Isis sympathisers have carried out several attacks in the country in the recent past. However, the government has been denying the presence of the jihadist group in the country, blaming home grown terrorists for such killings.