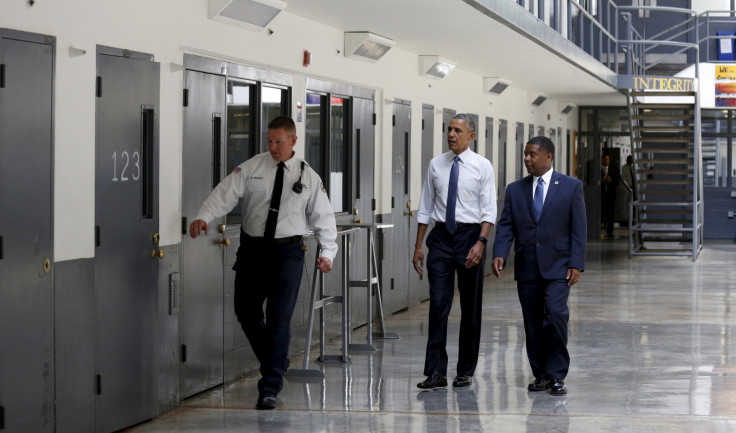 President Barack Obama commuted the sentences of 214 federal prisoners on Wednesday (3 August), marking the largest single-day grant of commutations in US history. The White House noted that the president has commuted the sentences of 562 inmates during his two terms in office.
According to a statement released by the White House, 67 of those inmates were serving life sentences, mostly for nonviolent drug crimes. "All of the individuals receiving commutation today, incarcerated under outdated and unduly harsh sentencing laws, embody the President's belief that 'America is a nation of second chances,'" Neil Eggleston, White House Counsel to the President, said.
The oldest case commuted by the president was that of Richard L Reser of Sedgwick, Kansas, USA Today reported. Reser was sentenced to 40 years for dealing methamphetamine and firearm possession in 1989. He will be released on 1 December of this year.
"The more we understand the human stories behind this problem, the sooner we can start making real changes that keep our street safe, break the cycle of incarceration in this country, and save taxpayers like you money," the president said in a Facebook post.
Obama is able to grant clemency two ways: through pardons, which grants full legal forgiveness to inmates for their crimes, and commutations, which reduce sentences but does not impact other conditions. Of those commuted, 35 inmates will not be released for another two years.
In 2014, the administration called on thousands of prisoners, including drug offenders, to apply for shorter sentences. According to Reuters, the programme has struggled due to a high influx of unprocessed cases.
Obama's quest to reform the US criminal justice system and reduce the number of people serving long sentences for nonviolent drug offences has, surprisingly, gotten the support of Republicans. In his White House statement, Eggleston called on Congress to "work on a bipartisan basis to get a criminal justice reform bill to the president's desk."