Barbie: 'The Doll Evolves' as Mattel launches figure with different skin tones and body types
Barbie owner Mattel has given in to years of criticism about the doll's looks and launched a new line of Barbies with different body types and skin tones. The iconic doll will hit the shelves in different shapes, from 'original' to petite and from tall to curvy. Barbie will also be available in seven different skin tones in an attempt by Mattel to make the doll more diverse and reach out to a wider audience.
"We were seeing that Millennials are driven by social justice and attracted to brands with purpose and values, and they didn't see Barbie in this category," Tania Missad, the head of global brand insights at Mattel told the Telegraph.
"There will be people who say we haven't gone far enough, or people who ask what's next, question our commitment to this,' Missad said. 'Barbie is a lightning rod for conversation, and of course there will be a backlash."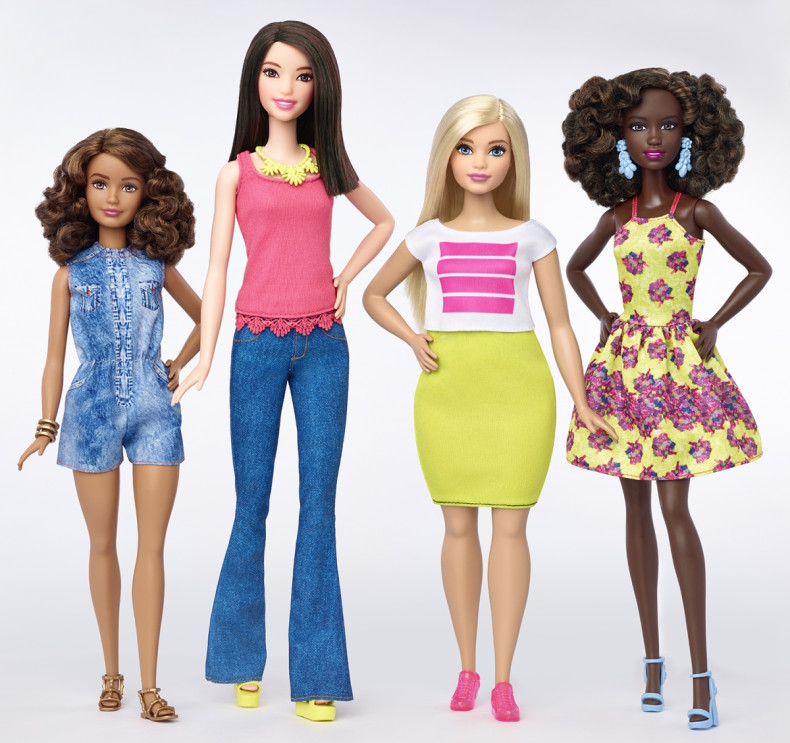 The old Barbie's waist was less than half the size of the average US woman aged 18-25. She would be classified as extremely underweight if she was a real woman and her waist would have a circumference of 29ins, a far cry from the average 40ins.
With her long blonde hair and blue eyes, the doll received a lot of scrutiny because of its allegedly narrow definition of femininity and feminine beauty. Mattel had made little changes to the doll since its launch in 1959. Evelyn Mazzocco, the head of the Barbie brand, even received hate mail and death threats over Barbie's body in the past.
Mattel's doll was slowly losing its appeal to girls and parents. Lego's new products aimed at girls caused the Danish brick company to take over from Mattel as biggest toy seller in 2014, while the new Elsa doll from Disney hit movie Frozen beat Barbie as most popular doll that year.
In 2014, Mattel launched the Entrepreneur Barbie, as veterinarian, football coach, astronaut and businesswoman. Mattel said its new lines hope to make Barbie more appealing to millennial women, which it sees as future customer.
"For more than 55 years, Barbie has been a global, cultural icon and a source of inspiration and imagination to millions of girls around the world," said Richard Dickson, president and chief operating officer of Mattel. "Her ability to evolve and grow with the times, while staying true to her spirit, is central to why Barbie is the number one fashion doll in the world."
The new Barbie doll, promoted with the hashtag #TheDollEvolves came out just a day after Lego launched its disability figure as part of the #ToyLikeMe campaign.