To coincide with Paris Fashion Week, a museum in the French capital is staging a huge exhibition paying tribute to an American style icon who has been at the forefront of fashion for nearly six decades: Barbie.
Barbie: Life of an Icon at the Museum of Decorative Arts in Paris features more than 700 dolls, showing how she has adapted to social, political and cultural changes in America and the wider world.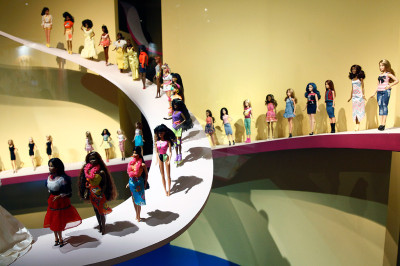 The exhibition also celebrates Barbie's 57th birthday; the doll was born at the American International Toy Fair in New York on 9 March 1959.
Ruth Handler, one of the founders of Mattel, noticed that her daughter and her friends weren't interested in baby dolls, but preferred playing with those representing women, imagining themselves in their future lives. Ruth convinced Mattel's directors, then all male, to manufacture such a doll. Barbie was launched with her own mythology: born in Wisconsin, Barbara Millicent Roberts has a family and clearly identified friends, but her age has deliberately never been specified so that she can embody either an adolescent or a young woman.
The exhibition illustrates how Barbie has evolved over the years. Her facial features and body shape have been slightly remodelled every decade or so; always different yet somehow always the same.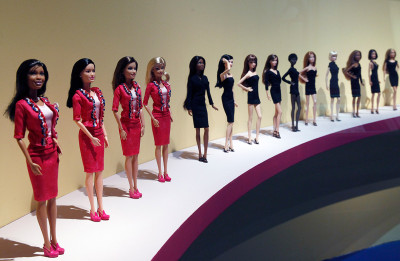 In the 1950s, Barbie was a glamorous stay-at-home all-American mom. By the early sixties, she had a few typically female career options (nurse, stewardess, office worker). As the decade progressed, so did Barbie. By 1965 she embodied America's obsession with the space race, becoming an astronaut in 1965 (before Neil Armstrong). Barbie has now had more than 150 professions. She's been a vet, a palaeontologist, a computer scientist, a racing driver, a schoolteacher, a doctor, a ballerina, a policewoman, and even a presidential candidate – four times.
But, of course, she's mostly been a model, allowing little girls to indulge their wildest dress-up fantasies. Not just little girls: some of the world's top fashion designers have created couture outfits for Barbie, including Thierry Mugler, Christian Lacroix, Jean Paul Gaultier, Agnès B, Cacharel and Christian Louboutin. The exhibition presents designers' outfits and sketches, as well as human-sized versions.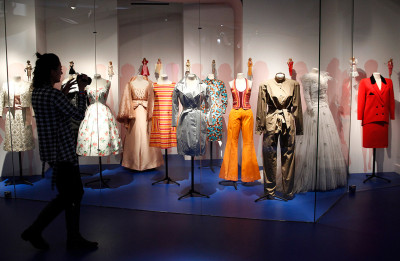 The exhibition features limited-edition dolls based on films and TV shows such as Star Trek, Grease and Mad Men.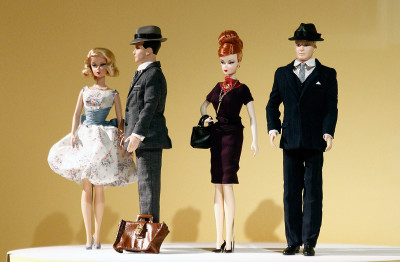 In a neat touch, the @barbiestyle Instagram feed features Barbie attending the exhibition with a friend, taking selfies and commenting on the outfits.
If you'd like to emulate Barbie, you too can visit the exhibition, at the Museum of Decorative Arts in Paris from 10 March to 18 September 2016.