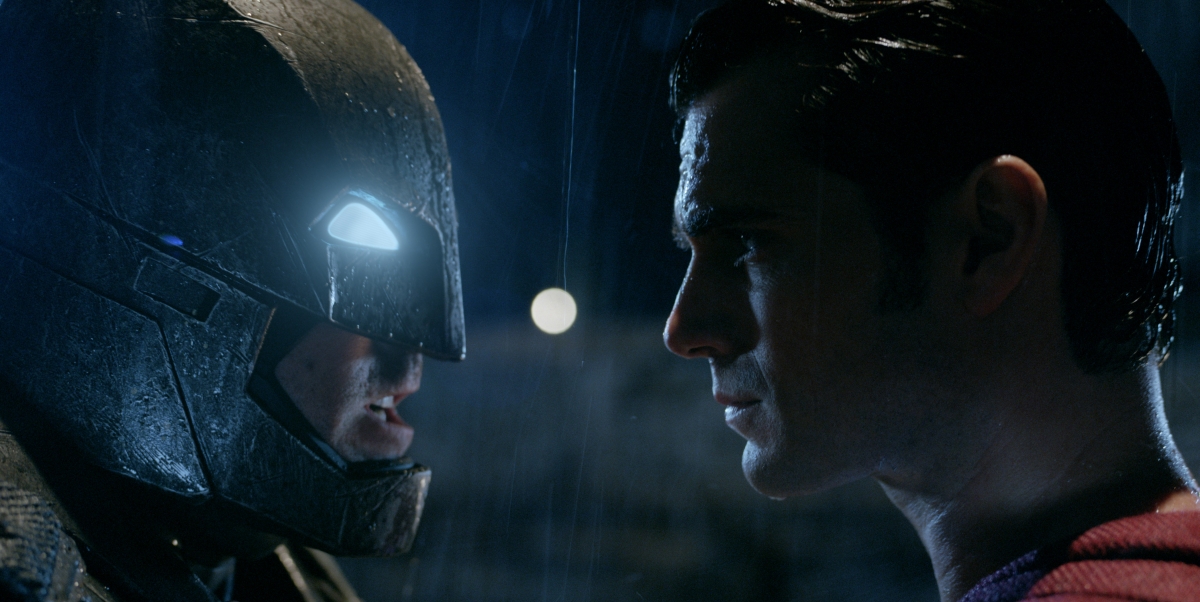 After the brief teaser it gave us on 30 November, Warner Brothers has unveiled a brand spanking new trailer for Batman v Superman: Dawn Of Justice. Since the footage started being rolled out earlier this year, we haven't had many clear indications as to what the exact plot will be in the upcoming DC film – other than that Gotham's elusive vigilante and Metropolis' all American hero will come to blows.
Finally, this recent trailer offers up a little more information as to why Batman and Superman are sparring in the Zack Snyder picture, as well as giving fans their first proper look at Gal Gadot's Wonder Woman and Jesse Eisenberg's take on Lex Luthor.
The trailer begins with returning Superman Henry Cavill in bespectacled journalist Clark Kent mode as he meets Bruce Wayne (Ben Affleck) at a red carpet glitzy event. After introducing themselves, the pair immediately skip the small talk and start discussing how the "people of Gotham are living in fear" thanks to the "bat who thinks he's above the law", and has been causing havoc in the city.
Wayne doesn't take too kindly to the bad words said against him – no spoilers, we're all too aware that he's Batman – and fires back, accusing Kent of being "hypocritical" as every time Superman saves the day, the publication he works for, The Daily Planet, writes a "puff piece editorial" about the hero. Only to be interrupted by a scraggly-haired, high-pitched but uncomfortably enthusiastic Luthor, who thrills at the prospect of Kent and Wayne meeting. Apparently they don't know the gravity of their introduction just yet, but he certainly does.
The rest of the clip shows us a lot of footage we've already seen before in previous sneak peaks, but we do catch new glimpses of DC Comics' supervillain Doomsday, seemingly unleashed by Luthor as he states: "If man won't kill God, the Devil will do it." And how do you fight the powerful creature that is known best in the comics as the character who "killed" Superman? Well, hope that Wonder Woman is there, of course, and luckily for Supes and The Dark Knight, she is...
Batman v Superman, which also stars Amy Adams, Jeremy Irons and Holly Hunter, will reach both UK and US cinemas on 25 March 2016. The Caped Crusader will then have a cameo in Suicide Squad later in the same year and Wonder Woman's standalone movie will follow, slated for a June 2017 release. Justice League Part One will be released on 17 November 2017 while Part Two is not scheduled to come out until 2019. In other words, it's safe to say, DC Comics' fans are sure to get their fill over the next five years.
For more entertainment news follow A-List on Twitter @Alistinsider