Elite Iraqi forces say they have captured a key district from Islamic State (IS) fighters in Mosul, days after beginning the second phase of the operation to take the city. The district, called al-Muthana, was taken after overnight fighting, an army spokesman said.
Backed by the US-led coalition, they carried out 19 air strikes in support of the major assault, which apparently killed dozens of militants. Kurdish Peshmerga fighters, Sunni Arab tribesmen and Shia militiamen, were also said to be involved in the fight.
Mosul is the last major stronghold in Iraq still held by the Islamists and around two-thirds of the east of the city being retaken since October, officials say.
Counter-Terrorism Service (CTS) spokesman Sabah al-Numan told Reuters news agency that the victory puts Iraqi troops in a position to take higher ground. It was the first time they had engaged the jihadists at night.
"We used special equipment and had the element of surprise - the enemy did not expect us to mount a night offensive because all previous offensives were during the day," he said.
They attacked across the River Tigris, and marked the beginning of the second phase of the nearly 12-week campaign, launched on 17 October, tasked with recapturing Mosul. The Iraqi army said its troops had raised the national flag after capturing the district.
Two thousand refugees are fleeing violence in Mosul everyday as fighting resumes in the centre of the Isis-held city.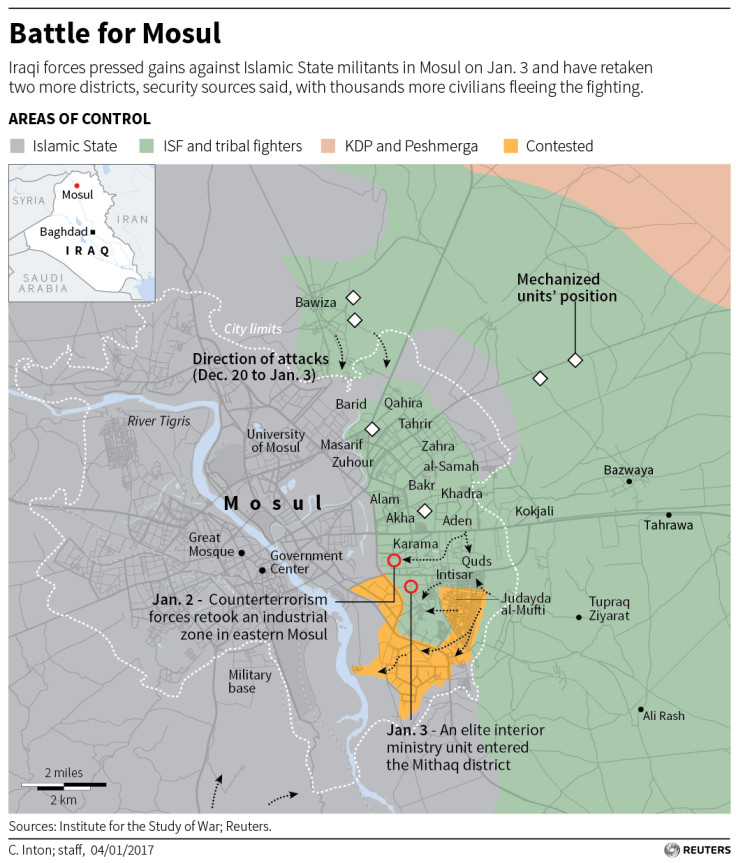 The UN said the unprecedented number of refugees fleeing Mosul - which has a population of 1.5 million - was far higher than the several hundred or more reported to be fleeing the city prior to the start of the US-backed offensive.
The extremists are using snipers, suicide car bombers and civilians as human shields, to retain the area west of the Tigris. The jihadists are fighting a 100,000-strong US-backed alliance that easily liberated Isis villages surrounding the city.
In July 2014, the extremists overran the city in a lightning attack, seizing control of much of northern and western Iraq and declaring the caliphate from the city's famous Great Mosque of al-Nuri.