Two thousand refugees are fleeing violence in Mosul everyday as fighting resumes in the centre of the Isis-held city.
The UN said the unprecedented number of refugees fleeing Mosul, which has a population of 1.5 million, was far higher than the several hundred or more reported to be fleeing the city prior to the start of the US-backed offensive.
The operation to dislodge the Islamic State (Isis) from began in October 2016 but stalled for several weeks after initial gains in the city's surrounding province. As weather conditions have deteriorated in the last two weeks, there was a temporary lull in the fighting.
According to Reuters militarised police troops have begun clearing Mosul's Mithaq district after entering the central neighbourhood on Tuesday (3 January). Fierce fighting has also been reported in the city's Karama district.
The UN has said the total number of displaced by the fighting in the city, Iraq's second largest, topped 125,000. "Following the intensification of military operations in Mosul city on 29 December, the rate of displacement from Mosul has increased markedly, with over 9,000 people having fled the city in the space of four days," the UN's Office for the Coordination of Humanitarian Affairs said in a statement.
A small proportion of those who left the city, some 14,000, have returned to their homes since the start of the offensive.
AFP reported Iraqi forces were now in control of more than 60 percent of Mosul's eastern half, citing a senior commander from the elite Counter-Terrorism Service.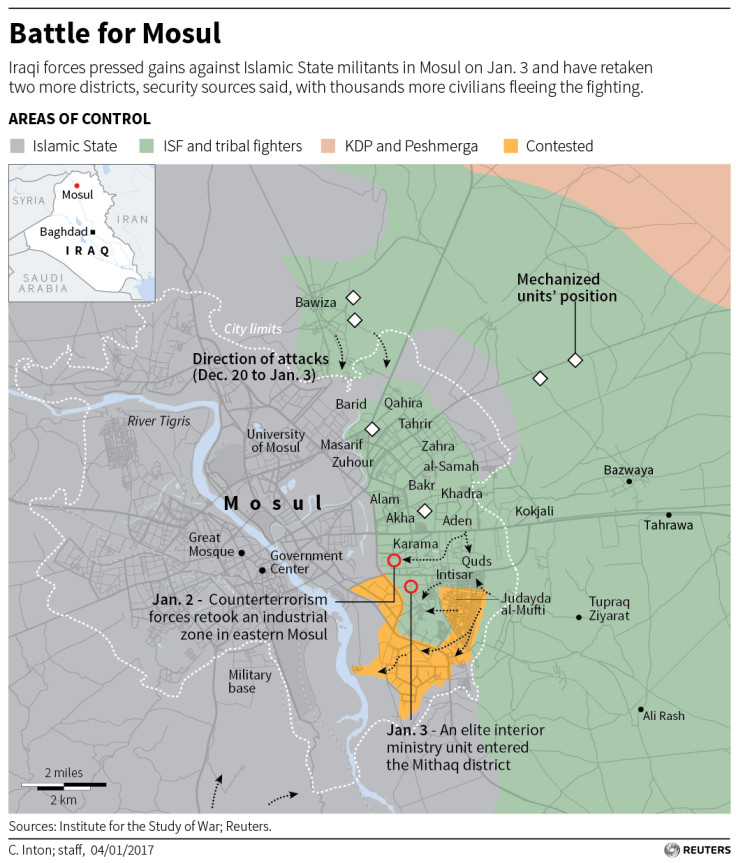 As Iraqi government forces have advanced there has been a marked increase in the number of civilian casualties in Mosul.
Outnumbered Isis forces, said to be more than 6,000 strong at the outset of assault on Mosul have used the local population as human shields. To use the urban landscape to their advantage they have placed car bombs down alleyways, deployed snipers on buildings with civilians inside and launched attacks from underground tunnels.