BBC Olympics presenter John Inverdale is facing fresh criticism on social media after an embarrassing gaffe during an interview with British heavyweight boxer Anthony Joshua on Thursday (18 August).
The sports broadcaster has been lambasted for displaying 'monumental rudeness' as he failed to pay attention to Joshua during the interview, apparently distracted as France's Sarah Ourahmoune, walked past the camera.
To add further insult to injury Inverdale interrupted the boxing star, stopping him mid-sentence to comment: "I don't know if two fiancés, or two engaged couples, have ever won gold medals at the same Olympics".
Viewers were incensed by Inverdale's omission of the two British couples at Rio, Jason Kenny and Laura Trott and married couple Kate Richardson and Helen Walsh who have all won gold at Rio.
Trott, 24, became Britain's most decorated female Olympian with wins in the Omnium and the Team Pursuit, while her fiance Kenny, 28, won gold with Sir Bradley Wiggins in the team pursuit. The golden couple who took home a total of five gold medals at the velodrome in Rio recently announced they are due to marry next month.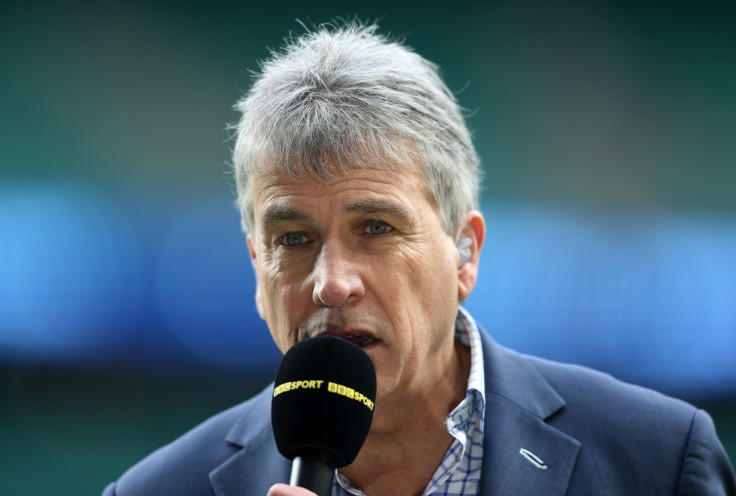 Inverdale didn't mention team GB Hockey captain Kate Richardson-Walsh and wife Helen, who have become the first same-sex married couple to win an Olympic gold in the same final. Kate, 36, and Helen, 34, are also thought to be the first married couple since 1900 to win medals on the same team.
It fell on BBC sports stalwart Claire Balding to correct his obvious error. Since the blunder was aired, Inverdale has been facing continued criticism over the weekend.
It's the latest in a string of Broadcasting blunders for Inverdale, who has come under fire for his inept performance during the Rio Olympics. Just a week earlier on he was accused of 'everyday sexism' after overlooking the Olympic achievements of Serena and Venus Williams.
On that occasion it fell on Great Britians Andy Murray to correct the BBC presenter when he congratulated the two-time Olympic champion on becoming "the first person to ever win two Olympic tennis gold medals." "Well to defend the singles title, I think Venus and Serena have won about four each," Murray explained.
He also clashed with co-presenter and Olympian Sir Steven Redgrave after the pair had an on-air spat when Inverdale compared the five-time Olympic gold champion Sir Steve to mute James Bond villain Oddjob.
After 007-themed footage about rowing was screened, Inverdale said: "Well, Oddjob alongside me here enjoyed seeing that . . . " An enraged Sir Steve hit back saying: "We'll have to call you Jaws because I can never get a word in edgeways."
Rolling his eyes the Olympic athlete walked out of the BBC's coverage as Inverdale continued to rant incoherently about women's rowing. He also caused outrage when he compared Wimbledon tennis player Nick Kyrgios to a character from the Jungle Book, prompting accusations of casual racism.
With the Rio Olympics ending this evening (Sunday 21 August), Great Britain can hold their heads high taking second place in the final medal tally. Sadly the same cannot be said for John Inverdale who will come home not with glory, but to brickbats for his inept Olympic performance.
So far the BBC has not responded to IBTimes UK's request for a statement regarding public reaction to John Inverdale's broadcasts from Rio 2016.