Women are dominating the Olympics this year, breaking world records in swimming, cycling, weightlifting and more. Yet despite the achievements of the likes of athlete Simone Biles, who won four golds this year, and cyclist Laura Trott, the first woman in British history to win four Olympic gold medals, sportswomen at Rio have faced astonishing levels of sexism.
And athletes are not the only women being subjected to comments about their clothing, body shape or relationship status, one pool-side commentator was attacked for wearing a short skirt – despite her male co-host reporting in short shorts.
As we enter the final few days of the Games, here are some of the most shamefully sexist moments so far.
When record-breaking Hungarian swimmer Katinka Hosszu's gold medal was credited to her husband
After Hosszu won gold in the 400m individual medley, beating the previous world record by nearly two seconds, NBC commentator Dan Hicks deemed her husband and coach Shane Tusup "the man responsible" for her success.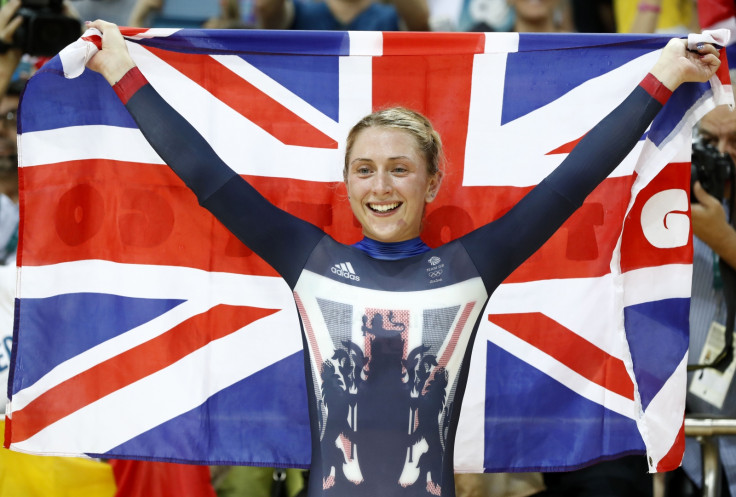 When the most decorated female British athlete in history was asked about dinner
Cyclist Laura Trott became the first British woman to win four gold Olympic medals when she won the omnium. Afterwards, when she tearfully went to congratulate her fiance Jason Kenny on his gold medal for the keirin, BBC commentator Chris Boardman said: "She's doing the emotion for both of them really, he's looking at her going: 'What's for tea?'"
When John Inverdale forgot about the achievements of two top female tennis players
Andy Murray put Inverdale in his place when the BBC commentator said the Scot was the first person to win two Olympic golds for tennis. Inverdale, who interviewed Murray after he won his second gold medal, said: "You're the first person ever to win two Olympic tennis gold medals. That's an extraordinary feat, isn't it?"
To which Murray replied: "Well, to defend the singles title... I think Venus and Serena [Williams] have won about four each but hadn't defended a singles title before."
When it was suggested gold medallist gymnast Sanne Wevers was scribbling in her diary
Wevers, 24, became the first Dutch woman to win an Olympic gymnastics medal when she took home gold for the beam at Rio. After she completed her balance beam routine, she began to calculate her points earned on a notepad – prompting NBC sports announcer Al Trautwig to suspect she was writing a "dear diary" entry.
When a BBC presenter was singled out for wearing a dress at the Olympic pool
When Helen Skelton wore a dress to report on the swimming, it sent the Olympics into meltdown with many commenting her outfit was too revealing, despite the fact her co-host Mark Foster was wearing shorts.
When a two-time Olympic medallist was slighted by a newspaper headline
American Corey Cogdell-Unrein won her second bronze medal in women's trap shooting this year, but the Chicago Tribune chose to focus on her marital status in their headline announcing her win. "Corey Cogdell, wife of Bears lineman Mitch Unrein, wins bronze in Rio," the headline read. The paper also failed to mention her previous Olympic medal awarded in 2008 in the article itself.
When a five-time Olympic gold medallist was overlooked after she broke her own world record
Swimmer Katie Ledecky made history this year when she broke her own world record in the 800m freestyle. On the same day, Michael Phelps tied for a silver medal in the 100m butterfly. In the morning papers, news of Ledecky's historic record was overlooked by Phelp's win. Some pointed out the newspaper had put together two wire pieces to save space, but many pointed out the article was indicative of dismissive attitudes towards women in sports.
When a Mexican gymnast was called a pig by Twitter trolls
Mexican gymnast Alexa Moreno was body-shamed by social media users, who commented that the 22-year-old "should have been on a diet" before competing at the Olympics. Thankfully, those who criticised her appearance were shot down on Twitter by Moreno's supporters who pointed out the focus should be on the athlete's sporting achievements.
When Fox News debated whether or not female athletes should wear make-up
Nevermind sporting excellence, Fox chose to focus on whether women participating in the Olympics should wear make-up. Bo Dietl, a former NYPD detective-turned-media-personality, commented: "When you see an athlete, why should I have to look at some chick's zits or some guy's zits on his face? Why not a little blush on her lips, and cover those zits? I like to see a person who wins that gold medal go up there and look beautiful."
When four-time Olympic gold medallist Simone Biles was compared to male athletes
In a long-running tradition of gendered double-standards and the undermining women's sporting achievements, Simone Biles, the 2016 Olympic individual all-around, vault and floor champion, has been compared to several male athletes – including Usain Bolt, Michael Phelps and Michael Jordan. One NBC commentator remarked that Biles was so talented on the uneven bars that "she might even go higher than some of the men."
Biles, however, responded perfectly in an interview, stating: "I'm not the next Usain Bolt or Michael Phelps. I'm the first Simone Biles."