BBC weather presenters including Carol Kirkwood and Jay Wynne face the axe?
"Vast majority" of people will continue working, says Nigel Charters.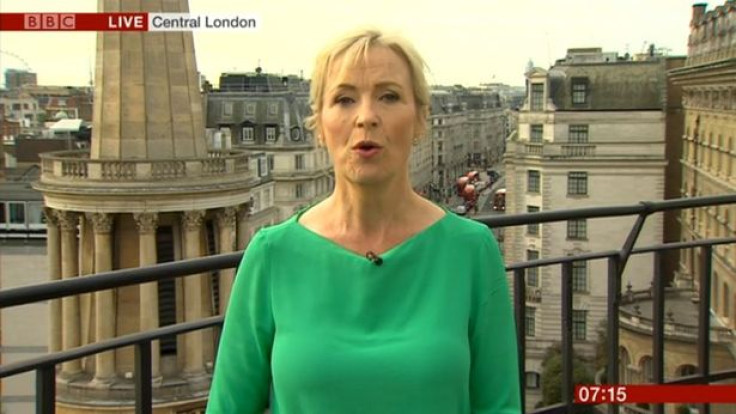 BBC weather presenters face losing their jobs following the announcement that MeteoGroup will replace the Met Office as the BBC's weather forecaster, it has been reported.
Viewers are currently familiar with the likes of Carol Kirkwood – who is taking part in 2016's Strictly Come Dancing – Tomasz Schafernaker, Sarah Keith-Lucas and Jay Wynne as the personalities providing them with weather updates.
But that could all change as the Met Office has confirmed losing the contract in August 2015 in an online blog. The Project Director for BBC Weather procurement, Nigel Charters, claimed that some employees may lose their jobs.
Charters said "the weather may be changeable in the UK, but BBC Weather will continue to provide the best possible weather information service across television, radio and digital based on timely and accurate forecast information".
He described the change as "another nail in Beeb's coffin", despite the "vast majority" of people – presumably the likes of Kirkwood and co – may be kept on.
Charters added: "Some things won't change though. We know how fond people are of our weather presenters. We have taken steps so the vast majority of our well-known and much loved presenters will continue to front BBC Weather.
"We'll still work closely with the Met Office on severe weather warnings; the national agencies for flood warnings and the Maritime and Coastguard Agency on shipping forecasts and coastal information," he continued.
International weather company MeteoGroup – with its headquarters in the UK – will take the helm in spring 2017. Audiences can expect to see "a more personalised website with clearer and more searchable graphics and more information on screen and on air" when the company takes over.
MeteoGroup has promised it will put its multiple sources of meteorological data into providing more "comprehensive and detailed forecasts".
Despite receiving backlash following the statement from licence fee payers, Charters believes it is the best decision for the paying public. He stated: "We have taken forward the strongest bid based on best possible service and value for money for the licence fee payer."
"These services will hit your screens, from mobile to television, in spring next year. And at a time when we need to make big savings across the BBC, it will also save us millions of pounds over the next seven or so years."
MeteoGroup's chairman Richard Sadler said: "MeteoGroup is honoured to have been chosen to partner with the world's leading broadcaster.
"The BBC is dedicated to offering the best possible weather service to its audience and it has been a demanding selection process," he added.
The BBC stated in August 2015 that it was legally required to secure the best value for money for licence fee payers and would tender the contract to outside competition. MeteoGroup is the largest private sector weather business with offices in 17 countries around the globe. It currently offers weather services to Sky and Channel 4.
© Copyright IBTimes 2023. All rights reserved.