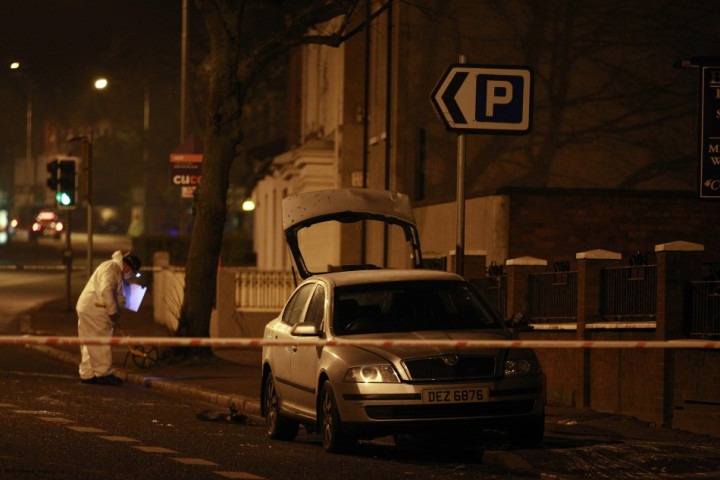 Loyalist protestors threw a petrol bomb into an unmarked police car in what was described as a "despicable" attempted murder on the eighth night of riots in Belfast.
A gang of 15 masked men launched the petrol bomb at the car just outside of Alliance Party MP Naomi Long's east Belfast office.
PSNI Chief Constable George Hamilton said the policewoman inside the vehicle was lucky to escape with her life and police are treating the incident as an attempted murder.
The violence stems from Belfast council's decision to fly the Union Jack flag only on designated days at City Hall instead of all year round.
Northern Ireland Secretary Theresa Villiers has called for an end to the "disgraceful rioting" which has seen police attacked, Alliance council members' homes targeted and two explosive devices seized from dissident republicans.
Villiers told the BBC the controversy surrounding the flying of a Union flag "cannot possibly justify" the recent violent clashes which have so far resulted in 29 injuries to police officers and 38 arrests.
She said: "It is despicable the events that went on last night, the attack on the police officer was totally unacceptable and nothing less than attempted murder and it comes hot on the heels of a week of disgraceful rioting.
"No matter how strongly people feel of the flying of flags, there is nothing that can possibly justify the scenes we've witnessed in Northern Ireland over the last week."
Long, the Alliance Party's east Belfast MP, has received death threats during the protests and a police vehicle has been stationed outside her office since.
Condemning the attack on the unmarked police car, she said: "There is no doubt in my mind that the car was targeted because it was undertaking patrols in the vicinity of my office and I find that absolutely repugnant."
Assistant Chief Constable George Hamilton said: "This was a planned attempt to kill a police officer which also put the lives of the public in danger and it is fortunate there were no injuries as a result of this attack.
"I am urgently appealing to those involved in ongoing protests to listen to their political leaders and step back from protest activity before someone is seriously injured or killed."
First Minister Peter Robinson and Ulster Unionist leader Mike Nesbitt confirmed they have met to discuss the flag fallout.
In a statement, they said they had "agreed to work on a joint basis with a view to urgently bringing forward political proposals to address widespread concerns across the community".
Robinson added: ""The attempted murder of a police officer in east Belfast was a despicable act of terror.
"The masked men responsible do not act in the name of our union flag. They are bringing shame on it."