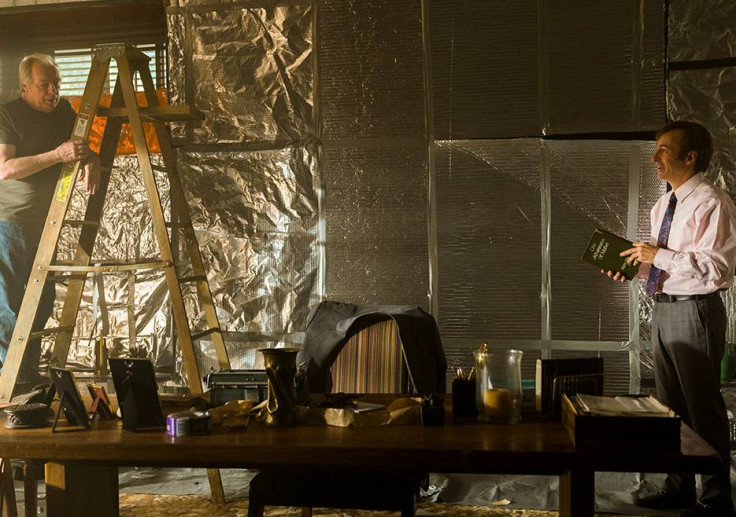 Better Call Saul season 3 premiered on 10 April, with Jimmy McGill's morality slowly slipping away, as his transition into his crooked Saul Goodman is right around the corner, thanks to his brother Chuck.
The premiere episode picked up from where season 2 ended, as Chuck tricked Jimmy into admitting that he fraudulently altered the Mesa Verde documents in a tape recorder and later played the entire conversation to Howard. Chuck gave Jimmy an ominous warning, "Don't think I'll ever forget what happened here today. And you will pay."
Actor Bob Odenkirk who plays Jimmy spoke about his character's journey in season 3 of Better Call Saul. He told Entertainment Tonight, "As far as the journey to Saul goes, sadly it seems that the journey is one where all that great humanity in Jimmy McGill is getting shoveled down and hidden away. He starts to just kind of shut down emotionally and that's a sad thing. His conscience is getting more blurred."
According to the actor, the "devolving" dynamic between Jimmy and Chuck is a major contributing factor to the downfall of Jimmy.
"Jimmy is going to get pounded," Odenkirk said. "He punches back once or twice, but in the end, he's just going to get crushed. It's one of the things that makes him into the diamond that is Saul Goodman," he said.
Better Call Saul season 3 episode 2 is titled, Witness, which will air on 17 April at 10pm EST on ABC. The episode will mark the introduction of Giancarlo Esposito iconic character Gus Fring.
Odenkirk weighed in on Gus Fring return in episode 2, and told the outlet, "It was like watching your memories come to life. I mean, I was never on that set originally because my character never interacted with Gus before, but it was really amazing and fun. And of course, Giancarlo is one of the greatest actors of all time."