Better than Siri: How 100 mini robots formed an orderly queue for their owners' iPhone 7
KEY POINTS
New Zealand's Spark network had a novel way of dealing with iPhone 7 launch day.
Premier League football club Manchester City is bringing Ubtech's queue-friendly Alpha 1 robots to UK.
A mobile network in New Zealand has saved some of its customers the trouble of queuing for the newly-launched Apple iPhone 7 smartphone by drafting in a regiment of robots to wait in the queue for them.
Incredibly, the 100-strong throng of mini Alpha 1 robots have been patiently counting down the hours since the 9 September. Each robo-replacement has an iPhone strapped to them which proudly shows the buyer's face and allows them to check up on their minion's progress in the line via live-stream.
Rather than wait silently, however, the robots can also be commanded to do all manner of exercise routines to keep their circuits active. The network responsible, Spark, posted a video of the robots in action, and the admittedly bizarre sight of robo-aerobics can be seen turning quite a few heads among the bewildered passersby.
As well as a brand new iPhone 7, the customers delegated a robot also get to take their useful buddy home at the end of the day.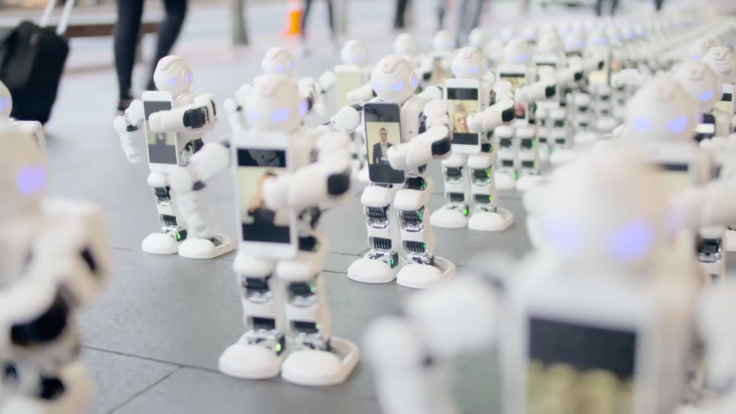 "Queuing is an iconic part of new device fan culture," said Clive Ormerod, GM Customer and Marketing at Spark. "People will camp for days outside stores to get their hands on latest devices. We thought, technology these days is so much more advanced than it used to be, so why shouldn't our customers have their tech queue for them instead?"
The robots – made by Chinese firm Ubtech – have popped up around New Zealand outside Sparks stores in Auckland, Christchurch and Hamilton. This is certainly not the last we will see of Ubtech's humanoid robots however.
Just days prior to the iPhone 7 launch, Premier League football club Manchester City announced that it had entered into a partnership deal with Ubtech to bring co-branded products to its fans, noting that supporters should "keep an eye out for them at home games throughout the season and for the opportunity to take part in exclusive fan competitions."
© Copyright IBTimes 2023. All rights reserved.