Taylor Swift and Beyonce both broke down in tears backstage at the 2009 VMA's following Kanye West's infamous stage invasion, it has been revealed.
Recalling his favourite Video Music Awards moment, the former chief of MTV Van Toffler said that both stars were crying after Kanye interrupted Taylor's Best Female Video acceptance speech.
"When Kanye walked up onstage with Taylor that year, it turned out that Taylor had to go onstage to do her song five minutes later," he recalled. "I ran out of the truck to see that everything was alright, and Taylor and her mom were crying hysterically. I'm not always wonderful with emotions. I didn't know what to say.
"Then I went backstage, and Beyonce was crying, too," he added.
The 19-year-old star was collecting the award for her song You Belong With Me when West stormed the stage and taking the mike from her shared his indignation that Beyoncé's Single Ladies (Put a Ring on It) had been snubbed.
"Yo, Taylor, I'm really happy for you, I'mma let you finish, but Beyoncé had one of the best videos of all time! One of the best videos of all time!" he declared to the audience among them a visibly shocked Beyonce who could be seen saying: "Oh, Kanye. Oh, God."
Later as she was announced as the recipient of the Video Of The Year award, Beyonce gave Taylor her moment saying: "I remember what it felt like to get my first MTV award."
The Love Story singer then said her thank you's as Beyonce looked on.
The incident saw Kanye lambasted for his conduct with the President Barack Obama describing him as "a jerk" for the stunt.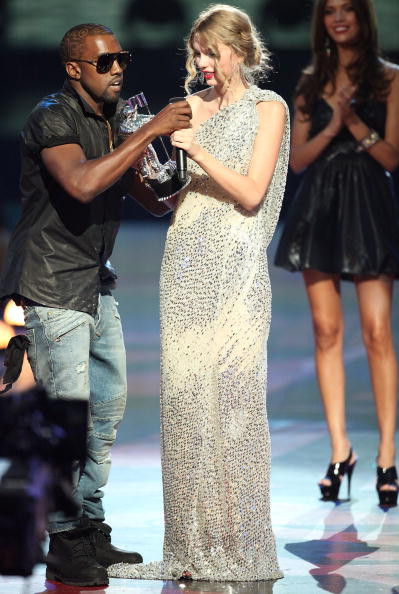 The rapper later apologised to Taylor and the pair even forged something of a friendship, until a subsequent clash which re-ignited their feud when Kanye rapped about having sex with the Shake It Off star in his song Famous. He claimed that Taylor had approved the lyrics however the singer issued a statement denying that she had ever given her blessing for the track to mention her.
She said in a statement: "You cannot approve a song that you haven't heard. Being falsely painted as a liar when I was never given the full story or played any part of the song is character assassination."
The matter escalated when Kanye's wife Kim Kardashian posted a videotape of their telephone conversation in which Taylor appeared to express her excitement about the track.
Of the 35-year-old reality TV star, Swift said: "I never talk s**t about anyone publicly, especially in interviews. But I was just like, I had so had it. I just felt like I wanted to defend him in it because it's like, she legitimately quote says, 'As soon as I get on that Grammy red carpet I'm gonna tell all the press. Like I was in on it".