Kim Kardashian has said she is "so over" her feud with Taylor Swift in a recent interview. The pair became embroiled in a public social media spat over Kanye West's controversial track Famous in which he made reference to the 26-year-old country singer.
The reality TV star posted a Snapchat video of Swift discussing the song with her husband as evidence that the Bad Blood singer had approved the song.
Swift claimed that while she was heard agreeing to being mentioned in West's controversial track, she had not consented to the specific content and did not realise she would be referred to as "that b***h". As Kanye infamously rapped he "made that b***h famous".
She said in a statement: "You cannot approve a song that you haven't heard. Being falsely painted as a liar when I was never given the full story or played any part of the song is character assassination."
In an interview with Billboard magazine she commented: "Ugh, do we really have to talk about Taylor Swift?' 'I'm so over it."
The mother-of-two explained that she felt compelled to intervene in the public row in defence of her husband. If it were up to Kanye, it all would probably never have come out," she said. "He can handle it, he has no hard feelings. He doesn't even really care. I just wanted to protect my husband. I saw him getting a lot of s***."'
Describing herself as Kanye West's "secret weapon" the 35-year-old admitted that she is so "obsessed" with her husband she was prompted to hit back at Taylor. "It wasn't even about a look or anything, or to have this feud - it was like, ''OK, here's the truth.'' Done. Let's all move on. I feel like I don't want to talk about her anymore," she added.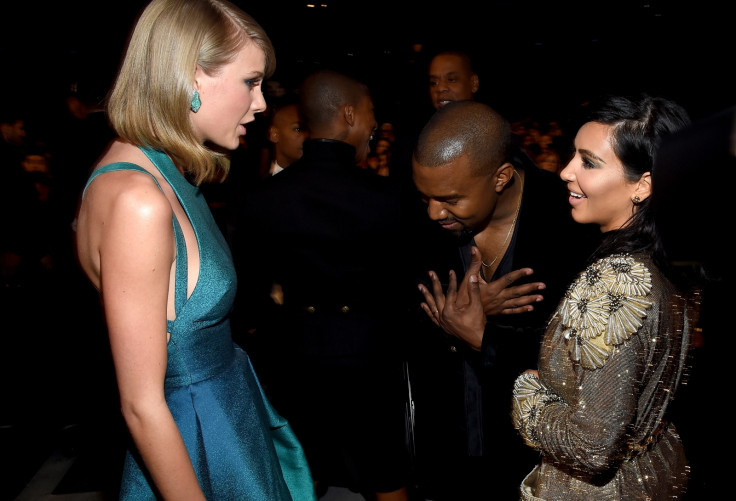 In an interview earlier in September with Wonderland, Kim insisted she did nothing wrong and had not intended to publicly embarrass the Bad Blood hitmaker. "I never publicly talk bad about people. I still don't feel like I have. I'm being honest. I'm a fan. I like her music. There was no shade," Kim told the magazine.
Kanye himself has done his best to stoke the flames of their enmity following reports that he appeared at a gig in Nashville on Wednesday (28 September), as part of the Saint Pablo tour - and urged the crowd to chant "F*** Taylor Swift" as he sang the track Famous three times during his set.
Meanwhile, the Keeping Up With the Kardashians star revealed that as well as being "obsessed with each other", she and Kanye are also each other's biggest critics.
"We value each other's opinions so much. I ask him about every last little thing," she told the magazine.
"I'll be a full critic. I could just say: 'OK, the lighting should be different here'. He loves the opinion. And then he will go into rehearsal the whole next day and totally perfect it."
The couple have two children together North, three, and nine-month-old Saint.