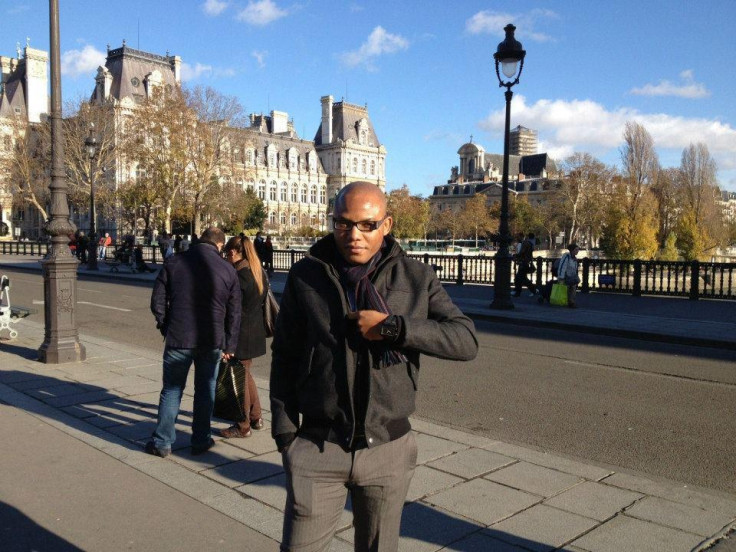 Hundreds of Nigerians who support the independence of Biafra have taken to social media to voice their dissent over the alleged arrest of their leader, Nnamdi Kanu. It is believed he was apprehended by the Department of State Services (DSS) after he had flown from the UK, where he lives, to Lagos.
The Biafran territories were independent from Nigeria from 1967 until 1970 and re-annexed to the African nation following a civil war that killed between one and three million people. Groups that advocate for the independence of such territories are scattered across Nigeria's south east. One of them is the Indigenous People of Biafra (Ipob), of which Kanu is the leader.
Kanu is also the director of London-based radio station Radio Biafra, which he founded in 2009 with the help of members of the Movement for the Actualisation of the Sovereign State of Biafra (Massob). Kanu explained the station, which the Nigerian government deemed illegal, aims to "bring hope, enlightenment and knowledge to our people".
The Nigerian government claimed in July that the National Broadcasting Commission (NBC) had managed to jam Radio Biafra's signal in Nigeria, while President Muhammadu Buhari denied he had made remarks against the Igbo (the biggest ethnic group in the Biafran territories) as claimed by the radio station.
Legend or fraudster?
Little is known about Kanu's private life. Speaking to IBTimes UK on conditions of anonymity, an Ipob member said he is regarded as a "legend in the making" and "he may not have given a detailed biography of himself to media, website or journalists". In an open letter to world leaders, Ipob members described Kanu as "a law abiding leader who has disciplined indigenous people of Biafra to strictly abide by local and international law". His official Facebook page is followed by more than 30,000 people.
In the midst of the Twitter storm following Kanu's alleged arrest, some people spoke out against him, claiming he is "a fraudster" who uses the Biafra cause for his own interests. Some also accused Radio Biafra of promoting hate speech.
Earlier in October, a woman claiming to be a former PR coordinator for Radio Biafra, Chioma Amaryllis, released an interview in which she claimed she left the radio station and moved back to Nigeria due to the "lies and misinformation". She alleged: "Money was being collected and used for other things. I was not going to be part of a ploy that was going to exploit the ignorance of people." Amaryllis, who claimed she had had a relationship with Kanu, criticised him for advocating an independent Biafran state from the UK instead of being on the ground.
Massob and Ipob are no longer collaborating and the two groups accuse each other of carrying out violent attacks that smear pro-Biafrans' reputation. Massob has been deemed by the Nigerian government as a violent group and authorities arrested its leader, Ralph Uwazuruike, in 2005 on treason charges. He was released two years later.
Following Kanu's alleged arrest, Massob released a statement arguing the man does not represent the group and he is "a rebel who had long been expelled by Massob for inciting violence among members". However, a faction of Massob has condemned the arrest.
IBTimes UK contacted the DSS for a comment but has not received a response at the time of publishing.
David Otto, CEO of UK-based global security provider TGS Intelligence Consultants, confirmed the arrest to IBTimes UK and said it might have been in relation to Kanu's role in the activities of Radio Biafra.
Unconfirmed reports claimed Kanu was granted bail on 20 October. Meanwhile, some Twitter users have posted pictures of protests calling for his release. It is not yet clear where the protests are taking place.
Nigerian government's position on pro-Biafrans
In an interview with IBTimes UK, government spokesperson Mike Omeri said the authority does not consider the separatist movements as a threat to the current leadership and defined pro-Biafrans as an "insignificant number of frustrated people who are not a threat to the existence of Nigeria".
The Nigerian police have been cracking down on pro-Biafrans amid allegations they are hosting violent protests. Earlier in September, dozens of pro-Biafrans were arrested after the inspector general of police, Solomon E Arase, released a statement urging authorities to clamp down on people who behaved violently across the country.
A perceived increase in pro-Biafran activities was also confirmed by Anambra State commissioner of police Hassan Karma during another interview with IBTimes UK. He said: "It is people taking laws into their hands and it's the same situation that generated Boko Haram today in the north east. People started like this, even in Niger Delta, where militants started kidnapping people for extortion."
Pro-Biafrans accuse the police of being violent against the separatists. The police denied the claims, while rights group Amnesty International said in an exclusive report by IBTimes UK that there is "credible evidence that pro-Biafran separatists in Nigeria are targeted by police".