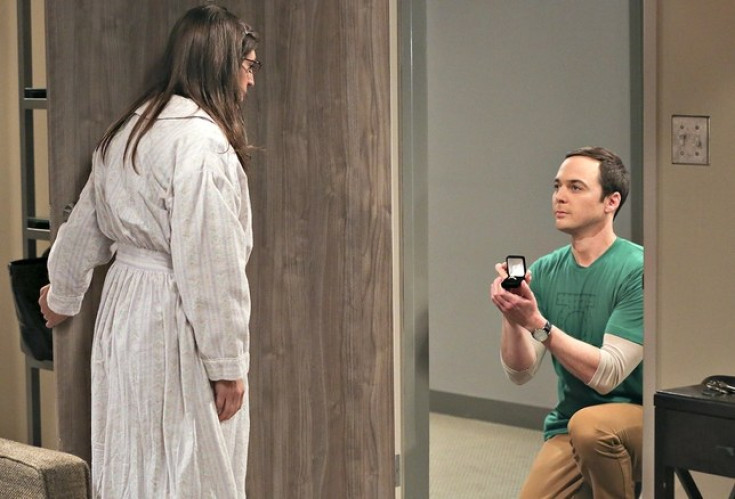 The wait is finally over for The Big Bang Theory fans as the show returns with its 11th season this Monday (25 September) at 8pm EST on CBS Network. The much-anticipated cliffhanger between Sheldon Cooper and Amy Farrah Fowler will finally be resolved in episode 1.
The premiere episode is titled The Proposal Proposal, which will pick up from where the season 10 finale left off. The official synopsis reads as follows:
Click here to watch the premiere episode via live stream online. You can also click here to watch it online (link available only in the US).
Steve Holland who joined The Big Bang Theory as a writer in 2009, stepped up to take over the reins as showrunner after Steve Molaro shifted to the network's new spin-off series, Young Sheldon.
Holland told Variety: "In taking over as showrunner, my least concern is putting my stamp on the show. These characters, over 10 seasons, have honestly grown and changed and taken on a life of their own, and my job here is to honor and protect these characters."
The writer also revealed that there are some "great science guest stars" in the upcoming episodes.
He told the outlet: "Obviously the proposal at the end of season 10 gave us a lot of energy of things to do going into the new season, but honestly there's just been interesting things going on in the science world of real life that's been really fun to bring into the show."
"It's nice that we've built out their world a little bit at this point, and we do have some great science guest stars in the first few episodes, too," he added.
Noting that Dr Ramona Nowitzki (played by Riki Lindhome) will return in season 11, the newly appointed showrunner explained: "Even though it's a cliffhanger, I think most people assume the answer will probably be yes."
Also, since Ramona kissed Sheldon in the season 10 finale episode, it could cause a "wrinkle" in the couple's journey. Teasing about the proposal, he added: "I think we dealt with [Amy's] answer in a way that felt the most real and natural to the character."