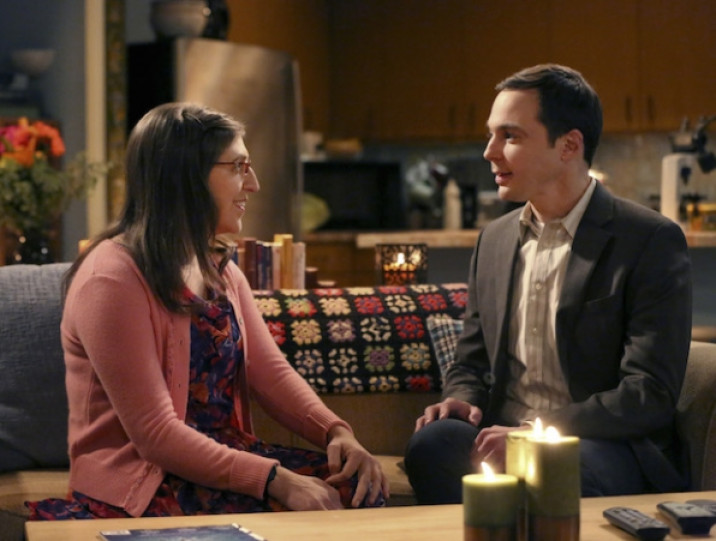 Valentine's Day has been a special day for Sheldon Cooper and Amy Farrah Fowler, as it was on this day in season 8 that Sheldon finally said those three magical words — I love you — to Amy. But what are they doing on the day this year? If you are thinking coitus, you are mistaken.
The Big Bang Theory season 9's all new episode will find Shamy (Sheldon and Amy) spending the special day hosting a live Valentine's Day episode of Fun with Flags. Episode 15 titled The Valentino Submergence will air next Thursday (11 February) at 8pm EST on CBS.
According to the official synopsis: "Sheldon and Amy host a live Valentine's Day episode of Fun with Flags, Leonard and Penny grapple with getting older, Howard and Bernadette find a surprise in their hot tub and Raj is torn between Emily and the cute girl he met at the Comic Bookstore."
Warning: Spoilers ahead
According to a leaked report, Sheldon decides to try something new with Fun with Flags and ends up doing a live broadcast instead of a pre-taped show. He also names the show as "Sheldon Cooper and Dr. Amy Farrah Fowler present Sheldon Cooper's Fun With Flags." But things don't go as planned for Sheldon, as the live show turns into "Advice by Amy" show with some familiar people calling in.
In the episode, Raj breaks up with Emily, while Leonard and Penny relive their youthful days. Also, Bernadatte drops a pregnancy bomb on Howard.
In the previous episode, fans finally met Sheldon's Meemaw, who doesn't approve of Sheldon and Amy's relationship. However, Sheldon defends his lady love, as Amy points out: "We have both grown together," and that they can make this relationship work. Meemaw then agrees and says: "If you feel so strongly, I won't stand in your way."