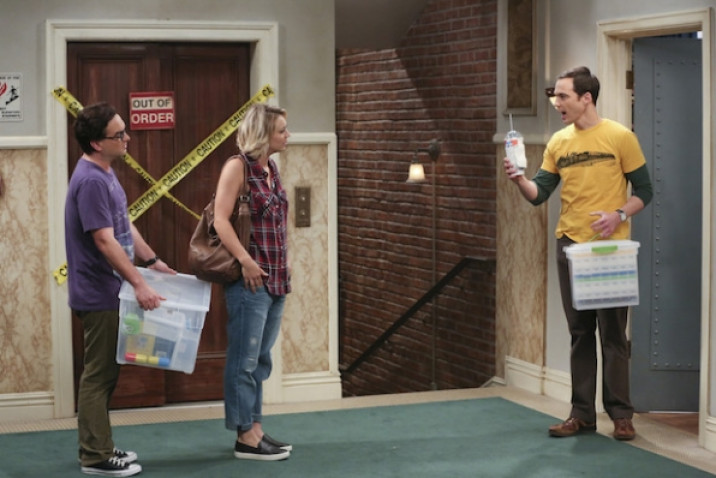 Leonard would most likely move out of Sheldon's apartment to live with his wife Penny in the upcoming episode of The Big Bang Theory season 9. Episode 4 is titled, The 2003 Approximation, which will air on Monday, 12 October at 8pm EST on CBS Network.
The official synopsis of the episode reads as follows:
Sheldon learns of an impending change in his living arrangements and decides to revert back to 2003, a simpler time before he met Leonard and Penny. Also, Howard and Raj form a band to play at the Comic Book Store, on The Big Bang Theory.
Click here to watch the episode via live stream online on CBS Go, or click here to watch it online. Leonard and Penny finally would move in together leaving Sheldon extremely upset with this "big change" in life. The physicist wishes that he could go back to a time when he had no emotions, mostly in 2003 before he met Leonard.
The latest promo for the episode shows Leonard and Penny talking to Sheldon about their living arrangements. The video opens with Sheldon thanking Leonard and Penny for a wonderful day out at the container store, which he think was almost like a trip to heaven.
However, when he sees Leonard going to Penny's apartment he questions why is he taking his stuff to Penny's place. To which, Penny explains, "Honey, now that me and Leonard are married, it makes sense that we actually live together."
Sheldon then realises that the whole day of fun was indeed a plan to butter him up before delivering the "bad news". He gets upset and leaves. But a leaked report now suggests that after Amy rejects to be Sheldon's new roommate, he gets really depressed. Hence, Penny decides to take him in so that the three could all live together. Although Leonard protests, Penny calms him down by saying: "Just think of him as our dog".
Meanwhile, in another promo, Rajesh and Howard are seen at the comic book store, where Stuart asks them if they knew any musicians. Stuart says, "I was thinking it might be cool to have live music here few nights a week, give this place more of a stay in business vibe."
Then Raj and Howard are reminded of their plans to play together, as Howard points out, "It would be fun to try out a few acoustic thing."
To know what happens next, watch The Big Bang Theory, season 9 episode 4 that air on Monday, 12 October at 8pm EST on CBS Network.