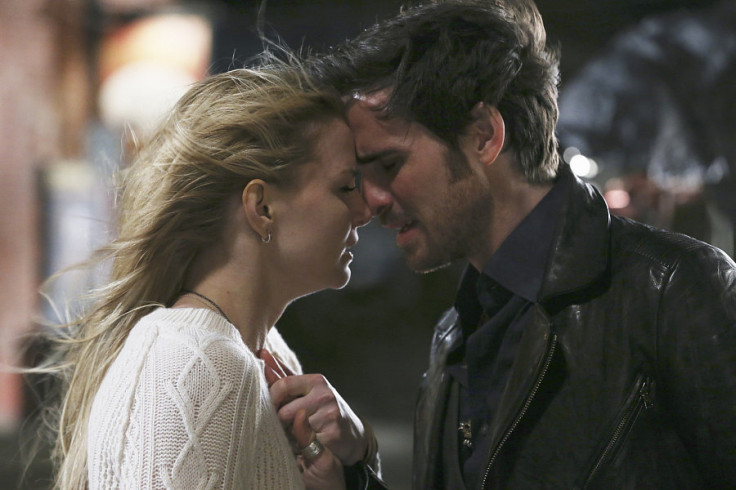 Emma's plan to draw the Excalibur from the stone will be in motion when Once Upon a Time season 5 returns with an all new episode this Sunday, 11 October at 8pm EST on ABC Network. Episode 3 is titled, Siege Perilous, where Emma will try to win back Hook's trust.
The official synopsis of Siege Perilous reads as follows:
Click here to watch the episode via live stream online on ABC, or click here to watch it online on ABC's official website.
Meanwhile, Once Upon a Time actor Jennifer Morrison at the New York Comic Con spoke about Dark Swan's complicated role. She described the character as "complicated" and said, "Emma is still the savior — it's not that she's not Emma. She's the savior with darkness in her... a cauldron of constant conflict. At certain times the dark is winning and sometimes the light is winning."
The actress teased that Emma's conflict "within" will create a lot of contradictions in her behaviour, as she attempts to earn Hook and Henry's trust. "The struggle that she's going through internally is very real and very intense and it's been a lot of fun to play," she said.
According to Entertainment Weekly: "Though Hook and Henry are said to be Emma's kryptonite, Emma will soon use both of them in order to advance her ultimate plan," Also, the Dark Swam would be seen crushing someone's heart.
The latest promo of the upcoming episode shows Emma at Hook's ship, but the Captain is not too happy with her coming up like that. She says sorry as Hook asks, "What is going on?"
"I know its all confusing, and I have not made it any easier. I wanted to apologise for overacting last time. I know you are just trying to help. So I thought, we could just talk and have lunch like old times," she replies.
To which Hook says, "I would like nothing more, but this is hardly like old times." After which Emma uses her magic to recreate their first date and smiles and asks, "better?"
To know what happens further, watch Once Upon A Time season 5, episode 3, that airs on Sunday at 8pm EST on ABC Network.