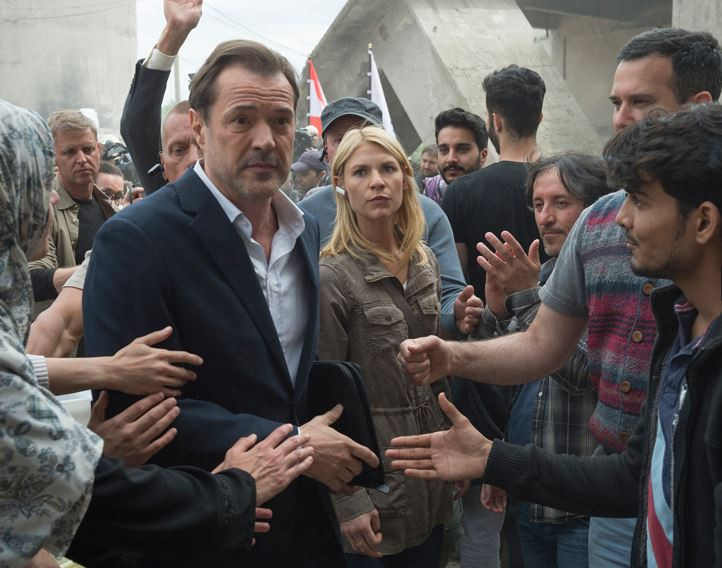 Homeland season 5 premiere may have introduced us to a Carrie Mathison as an ex-CIA agent, but soon her life will turn into a war zone, as she and her German boss visit a Hezbollah-controlled refugee camp on the Lebanon-Syria border. Episode 2 is titled, The Tradition Of Hospitality, which will air on Sunday 11 October at 9pm ET/PT on Showtime.
According to the official synopsis, "Carrie and Düring visit a refugee camp. Saul and Allison are at odds." Click here to watch the episode online. You can click here to visit Homeland's official page on the Showtime website.
Showrunner Alex Gansa teased that Carrie working in direct opposition to CIA and talks about how the ex-CIA life will converge with her ex-partners, Saul Berenson and Peter Quinn.
Gansa told Radio Times, "We've located Carrie [Claire Danes] emotionally in a space where she's running from her past but she can't hide from it. So this is two years after the end of season four, and she is presently working for a German philanthropist. This is a guy who is all over the world, championing human rights and open societies and democracies. And she provides security wherever he goes."
The showrunner added, "So she is actually working, you could say, in direct opposition to an intelligence agency like the CIA," and teased, "Let's say their lives will all converge in Berlin."
A new promo for the upcoming episode shows Carrie explaining the unpredictable ground situation to her boss Düring at a guarded refugee camp and tells him to limit the time of visit to one hour.
Meanwhile, Saul is briefed by Allison, who is the new Berlin station chief, on the leaked documents. "We suffered a major penetration here," says Saul. "You think Carrie is involved?" To which she replies, "They [the hackers and Carrie] both work for Düring."
The scene then shifts to the refugee camp where the German billionaire announces, "Here is a check for $10m. We will make this camp a safe place," as a bomb goes off in the next scene. Sadly Carrie is thrust back to the world she has been trying to run away from!