Steven Goode is the latest housemate to be evicted from Big Brother.
The entrepreneur said he was "happy to be out" and had no regrets about having sex on live TV.
The 23-year-old won headlines for his whirlwind relationship with fellow housemate Kimberly Kisselovich. The two created Big Brother history after being caught on camera having sex.
"I did anticipate going. I felt my time has come," said Steven. "It's really intense in there. I have been lucky enough to have met Kim. I've fallen in love with Kim. I don't regret anything I did in the Big Brother house.
"Had we met in the outside world we would have done it in our own properties, but we were in Big Brother in a very intense environment and things got carried away. But I wouldn't change anything about my Big Brother journey."
While the pair have been accused of staging a showmance, Steven denied the speculation claiming that he had truly fallen in love.
"It's just been an amazing journey. I didn't expect to meet anyone in the house let alone fall in love. Everything I did was real. I take it really, really offensively that anyone could call our relationship a showmance. I love Kimberly exceptionally, exceptionally a lot. I have fallen in love only once before, but I do love Kimberly, as cheesy and cringy as it may seem to everyone else. "
Explaining why he gave into temptation and had sex with the former Playboy model he said: "It was so unconscious and you do get a bit carried away in the moment. I don't regret anything I did in the house. I met someone and I fell in love. Ash, Helen and Winston were the only people who heard. It wasn't exactly full blown sex without the covers on."
Steven also found himself the focus of public contempt after he pressured Kimberly into destroying photographs of her former boyfriend and appeared to be controlling and insecure.
Justifying his behaviour he said: "There was an awful lot thrown at me considering it was a new relationship and I think we dealt with it as well as we possibly could at the time. The way you've explained it is not how it panned out at all. We only had a few disagreements and we handled everything together the best way we could."
"From the moment we walked there was an awful lot of s*** thrown at me and thrown at her and we're going to get criticism for it and I stand by everything that I went through in the house."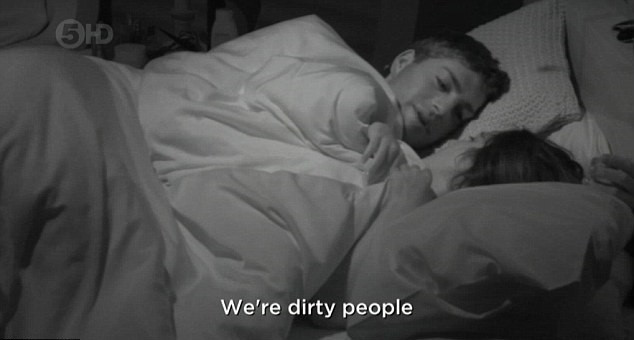 Steven and Kimberly had famously discussed prenups, marriage and their "future life together", a mere matter of weeks after their met on the TV show.
Speaking to Big Brother's Bit on the Side host Rylan Clarke about the possibility of wedding bells, he said: " I'm probably going to go down as one of the cheesiest housemates, ever but I will probably marry her."
But while having sex on TV wasn't objectionable, Steven drew the line at proposing to Kimberly on live TV when presented with a ring by Clarke.
He said: "Kim you know that I see you as marriage material, but my proposal is going to be in private."
Meanwhile, he said the Big Brother experience had been overwhelming. "It was so emotional. The whole thing just affected me. The whole process. Just being on the show. Its been the most incredible experience."
And despite the public criticism he faced for his under the covers action, he said he had the support of the other woman in his life: his mum.
"My mum said to me: 'I'm so proud of you." I'm so lucky to have an open minded mum."
Big Brother continues on Channel 5.