Kimberly Kisselovich has defended herself for having sex with Steven Goode in the Big Brother house.
Kimberly and Steven left viewers and housemates shocked when they were caught on camera having sex on the live reality TV show.
Speaking for the first time about her relationship with fellow housemate Steven Goode, the 23-year-old, was quizzed by Big Brother's Bit on the Side host Emma Willis in a no-holds barred interview.
"There are only two other couples who have ever had sex in the house," said Willis. "It was quite a hoo haa because we saw full on missionary position action."
Unrepentant the former playboy model admitted she had no reservations about getting intimate with a fellow housemate on live TV and was unsurprised by the controversy that followed.
"Before I walked in I was like 'I probably would.' Every time someone has sex on TV, people have an opinion. As you become more comfortable you forget about the cameras. Noone noticed except Ash and Helen."
Asked whether she thought her conduct was ladylike, the law graduate attempted to dismiss the comment asking: "What does lady like mean? I 'm not really sure what lady like is. None of my lady parts were on show."
After she left the house suddenly due to illness, rumours spread that the reality star was pregnant.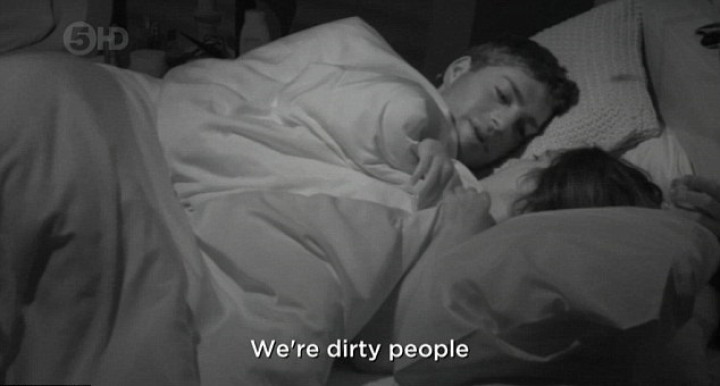 Wearing a black jacket with a revealing neckline, the former Playboy model walked into the studio, apparently exposing a baby bump.
Pulling out a cushion from under her short skirt, she laughed off the rumours of a pregnancy.
Kimberly and Steven's whirlwind romance has been the focus of speculation, not least of all because of their under the sheets antics, but also because Kimberly was in a relationship with a man called Sasha before entering the house.
With commentators and the public expressing their doubts as to whether the relationship will last, and many suggesting it's just a 'showmance' Kimberly said that she was positive about their future together.
"I'm definitely still feeling Steven Goode," she quipped. "We're definitely on the same page and I have had time to reflect. I've sorted out some things in my pre-Big Brother life and I'm ready to start a new chapter.
Speaking of her previous relationship, she said: "I still respect Sasha. But I don't want to talk about certain things about Sasha on TV. That's between me and him. You're very conscious about things when you're on Big Brother, because I don't want to talk about problems in the relationship with him on TV."
Kimberly explained that while she was oblivious to Steven's early attempts to impress her, she soon found herself having feelings for him.
"I noticed that I was falling for Steven probably the first night of eviction," she said. "I was looking at him and thinking 'I don't want to feel this way.' "
Reacting to charges that the millionaire entrepreneur was controlling, Kimberly defended Steven.
"It didn't feel that way with me. It's very difficult for me to be bossed around so I really didn't feel like that. I didn't feel offended by anything. I don't feel like he takes control as much as the public think. I do feel like its taking care and being looked after," she said.
And after viewers watched Steven endlessly profess his love to her, and even discuss pre nups and a future together, even Kimberly was forced to admit it's all too much, too soon.
"I think right now it's a bit premature. In my head it's not a definite no. I'll be there when he's evicted and I'll be by his side."
Meanwhile, the Big Brother house was rocked by a bombshell as the Power Alliance was exposed and nominator Ashleigh found herself facing the public vote in a shock twist.
Big Brother continues on Channel 5.