The sight of Steven and Kimberly having sex in the house, famously prompted Big Brother show host Emma Willis to cover her eyes and look away.
Summing up what the rest of us were thinking she said: "I feel a bit sick." And it seems that along with the public, the rest of the housemates are also reeling at the couple's under the sheets antics.
In what was described as one of the most sexually explicit moments in Big Brother history, requiring a public warning before being broadcast, Steven Goode and Kimberley Kisselovich were seen clearly having sex in the middle of the night while the other housemates slept.
Steven said afterwards: "We are dirty people."
And it seems Kimberly wasn't ever averse to the idea of having sex on national TV before she had even met Steven.
In an interview prior to going into the house, in which she was asked if she would ever be inclined to have sex on the show, she replied: "That's so intimate to each relationship, so I'll have to wait and see. Never say never."
The two, who spend most of their time in bed together, were earlier heard having a conversation about their personal fetishes.
Steven, who in his video introduction, claimed he could be Prime Minister some day, revealed that his fetish involved "having sex all day long, all the time even when it becomes physically impossible" while Kimberly said her preference was just for "good sex."
Sounding insecure, the millionaire evidently felt the need to clarify on his performance and asked "Do you like having sex with me?" "Yes," she replied, much to his apparent relief.
Meanwhile, male model Ash revealed his conservative side as he was heard speaking to Essex boy Winston about the under the sheets action in the Big Brother house.
10.30am: Kimberly and Steven are awake and snuggling in bed. We do hope they keep it PG #BBUKLive

— Big Brother Live (@BBUKLive) July 12, 2014
Referring to Kimberly and Steven he said: "They were s*****g again last night. Me and Helen woke up and they were both awake. I'm gonna make an official complaint," he joked.
While Winston admitted he would readily have sex in the house given the opportunity, Ash said he would be too embarrassed to indulge in any such antics on live TV.
"I'd be too self conscious. I just keep thinking, think how much more relaxed you would be outside,"
he said.
Discussing the hot topic with Mark, Ash added: "I don't think she feels for him like he feels for her."
Revealing his cynacism regarding the blossoming relationship, Mark commented: "She's here for her career, the people who want to get the most out of it have a showmance,"
Ash also revealed his disgust at the housemates conduct in a later conversation with former escort Helen Wood.
"I wouldn't do that here, mostly because of how it would make my mum feel. My mum would have a f*****g heart attack," he said.
Helen replied: "I said I don't want to sound like a bitch but you need to have more respect for peoples feelings, and it's all over twitter that they've shagged."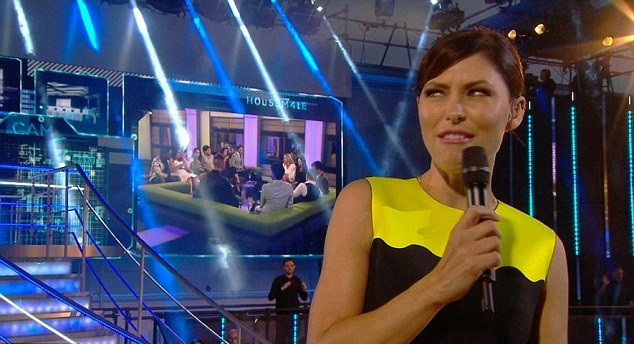 With Steven endlessly professing his love for Kimberly and even discussing pre-nups and their "future life together," it was left to the Playboy model and law graduate to explain her rapidly developing relationship with the millionaire businessman, to Big Brother in the diary room.
"If it was outside the house we would meet on a date every other week for a couple of hours, but what people don't understand is that in the house we're together 24 /7 and I know so much about Steven," she said.
"We have been here now coming on 5 or 6 weeks, I've got to know him quite more than I would outside, I am comfrotable with our relationship, but sometimes you would want some more privacy, if I were to sum it up this past week I have come to terms with the old chapters in my life and I'm looking forward to the new ones," she added.
"I didn't expect to fall in love in the house."
After hearing the chants of "Get Steven out" from the crowd at the last eviction, which saw Jale leave the house, the millionaire entrepreneur was left in turmoil. "I take that personally," he commented, as he questioned why the public were so opposed to him.
"It can't be because we had sex," he said. "That was on Tuesday. My mum's gonna be so upset."
Big Brother continues on Channel 5 at 9pm with a surprise eviction on Monday and three more people entering the house.