Marco Pierre White Jr is still cooking up a storm in the Big Brother house. The 21-year-old tattooed model – who came into the house with a fiancée on the outside, Kim Melville-Smith – is acquiring a reputation as a womaniser with his behaviour around female housemates on the reality show.
After club hostess Laura Carter, 30, confirmed that the pair did in fact have sex on national television, Pierre White Jr has played up to the stereotypes of young men and has hastily moved on to his next potential conquest, Evelyn Ellis. As Carter appeared to dump the model before he got there first, he hasn't wasted any time with licking his wounds and focusing on a new project.
It doesn't come as too much of a surprise, however, as Pierre White Jr and 20-year-old nightclub hostess Ellis – who suffers from "chronic b*tch face", in her words – have already enjoyed a few racy exchanges. His attraction to her has been made blatant from the beginning, with him even orchestrating a kiss between Sydney-born Ellis and Carter in the hot tub.
The tattooed model continues to do his rounds with the BB ladies, relishing in the fact that he's got a way with him. Wednesday night's (15 June) episode saw him and his new love interest get flirty in the bedroom as the pair got closer – with Ellis turning a blind eye to Pierre White Jr's former reality TV dalliances with Carter and The Valleys star Lateysha Grace, who he called "gorgeous".
The son of one of the world's most famous celebrity chef's also tried his luck with DJ Emma, telling her she was "cute."
His antics no doubt caused uproar on the outside as Carter twisted the knife furthermore, confirming she had has sex with the model and socialite. In a conversation with Lateysha, she said: When we (her & Marco) were in bed together the other night, we had sex."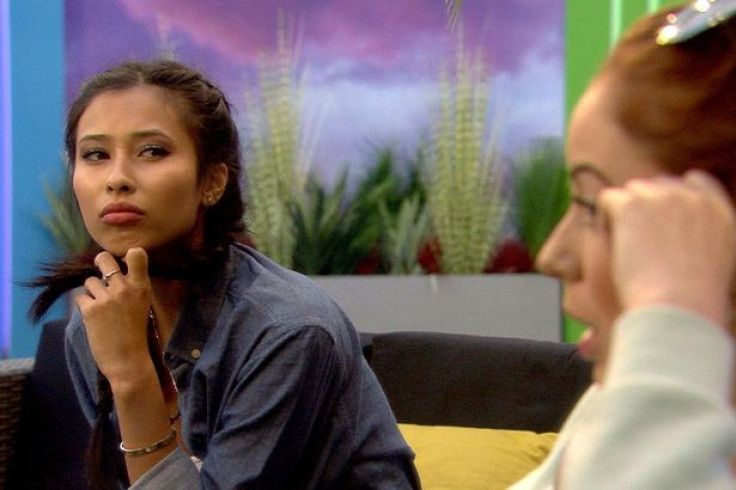 She added: "It wasn't full blown sex, but we had sex basically. Straight after it happened he said 'Oh MY GOD! What's my family and my fiancée going to say?' I was like 'mate; you can't say this now'. I think he feels guilty."
In a bid to get revenge on Pierre White Jnr, Carter was heard discussing the size of his manhood to Sam, Ryan and Evelyn – perhaps in hopes she could put his new love interest off. "I mean it's just normal, maybe six or seven... it's not small," she said. When Sam asked about its shape, she added, "Yeah, he's got like a big [end]".
Expressing remorse about the onscreen dalliance in the Diary Room, Carter said: "It doesn't mean I'm a home wrecker. I know the girl code, if a girl's got a boyfriend you would never get with that guy. Marco should start getting a bit of stick, he's the one who is in the open relationship and told me he is. When I leave this house the truth will come out, I really hope he hasn't lied to me."
Watch Big Brother tonight at 10pm on Channel 5.