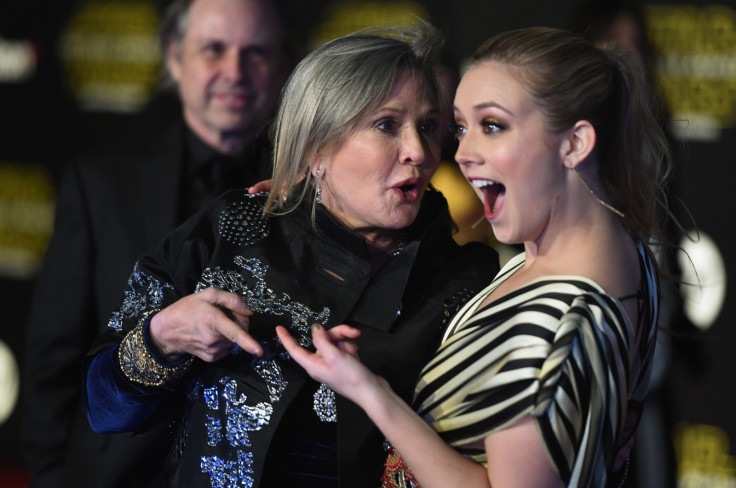 Billie Lourd remembered her late mother and actress Carrie Fisher on her first death anniversary by sharing a magical post on Instagram. The Star Wars actress, who immortalised the character Princess Leia, died on 27 December, four days after she suffered a medical emergency on an international flight.
To give the perfect tribute to Fisher, who was 60 at the time of her death, Lourd travelled to northern Norway and braved 27 degrees below 0 to click a stunning photo of her on a frozen river with the northern lights lighting up the sky.
The Aurora Borealis was one of her mother's favourite obsessions and Lourd couldn't find a more unique tribute than capturing the stunning sight. "My momby had an otherworldly obsession with the northern lights, but I never got to see them with her," she wrote in a heartfelt note.
Paying homage to her beloved mother's sense of humour, the former Scream Queens star added: "We journeyed to northern Norway to see if we might 'see the heavens lift up her dark skirts and flash her dazzling privates across [our] unworthy irises'. And she did. I love you times infinity."
Her post has since been liked by more than 135,000 Instagram followers and many extended their love and support for the 25-year-old Hollywood actress. "This is beyond magical," one of her 971,000 followers commented. "Much love to you, I adored your Momby and you are making her so proud," one fan wrote.
The green lights from the Borealis reminded fans of the Star Wars lightsaber and one commented: "She's using the force. I'm so glad you were able to experience that." Another wrote: "Thank you for sharing Billie, your mom's spirit will live for eternity with moments like this."
Fisher's death was attributed to sleep apnoea and a combination of other factors. She reportedly had multiple drugs in her system. In June this year, Lourd released an emotional statement about her mother's demise and wrote: "My mom battled drug addiction and mental illness her entire life. She ultimately died of it. She was purposefully open in all of her work about the social stigmas surrounding these diseases."
Highlighting mental health issues, the heartbroken actress said she wants to raise awareness about the condition which she knew her late mother would have wanted to do. "She talked about the shame that torments people and their families confronted by these diseases. I know my mom, she'd want her death to encourage people to be open about their struggles. Seek help, fight for government funding for mental health programs," her statement read.