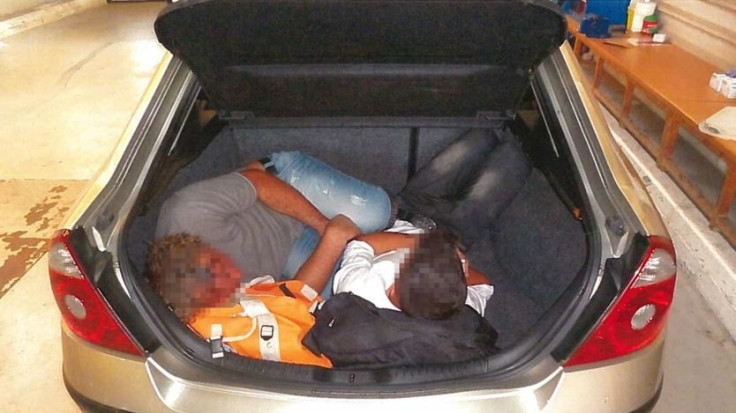 Six members of a people smuggling gang are facing jail after they were caught trying to sneak Albanian nationals into the UK in car boots. Border Force officials stopped a vehicle in Coquelles near Calais, France, in March 2015 and discovered two adults and a child hiding in the boot.
Nearly five months later, officers at the same UK control zone found two Albanian men in the boot of another vehicle. On both occasions, the Albanians were handed to French authorities. Investigators in the UK traced the discoveries back to a gang in Birmingham, Canterbury Crown Court heard.
Lee Anderson, 46, of Titania Close, who was the driver of the first vehicle stopped, and his passenger Jason Cowley, of Borrowdale Road, Anderson, were both arrested at the scene. They pleaded guilty to conspiring to facilitate the commission of a breach of the UK immigration law by a non-EU person.
Gillian Barker, 47, of Lismore Drive, who was driving the second car, also pleaded guilty to the offence. Three other individuals from Birmingham were also convicted of involvement in the people smuggling operation.
Eduart Karaj, 39, of Icknield Port Road, pleaded guilty to the same offence while the other two – Ilir Hani, 44, of Malins Road, and Vullnet Karaj, 41, of Great Colmore Street – were convicted following a five-day trial. They are all expected to be jailed on 18 September.
David Fairclough, immigration enforcement criminal and financial investigation assistant director, said: "It is clear that this gang tried to organise these smuggling attempts to line their own pockets and gave little or no thought to the safety of the people, including a child, crammed into a confined space.
"This was a co-ordinated effort by the gang, but our officers worked tirelessly to sift through the evidence that uncovered their criminal enterprise. I hope that this case serves as a warning to anyone else contemplating this kind of criminality. We will catch you and bring you before the courts."