West Midlands Police have arrested a man who allegedly stole an American Bulldog before throwing it out of a tower block window to its death in Dreads Heath in Birmingham. Police have detained the 36-year-old suspect after receiving reports the dog was hurled from the block at around 7.45pm on Saturday (29 August). The dog, believed to be an American Bulldog, was taken to a vet, but was dead on arrival.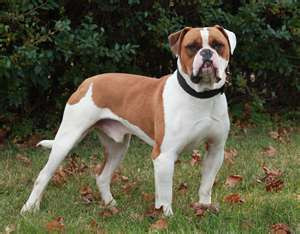 A police spokesman would not say what storey the dog had be thrown from but added it was "high enough to kill the dog". A statement from the force added: "Our officers attended the scene in Netheravon Close and a 36-year-old man was arrested on suspicion of theft and animal cruelty, he has been bailed with strict conditions pending further investigation.
Inspector Matt Crowley from Birmingham South said: "Enquiries into what happened are currently ongoing and we are working closely with our partners at the RSPCA. We are asking for anyone with information about what happened to contact Birmingham Police on 101."
Described as stocky, powerful and athletic, American Bulldogs can weigh up to 60kg and live for up to 15 years. They are known to require a high level of attention and form strong bonds with their owners.