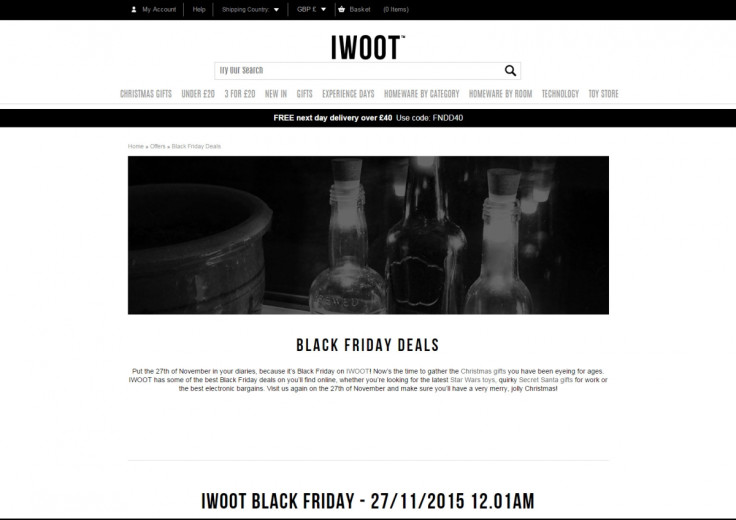 It's that time again – that much-beloved (or hated) tradition of Black Friday has made its way across the pond and now many UK retailers are slowly coming onboard, including I Want One of Those (IWOOT), a quirky tech gadgets, gizmos, toys and homeware online shopping site.
Black Friday is a traditional shopping bargain day that originated in the US, taking place over the Thanksgiving weekend. Americans are used to this holiday and even have set survival plans for how they can get to high street shops and supermarkets, grabbing items before other consumers.
IWOOT has put up an information page for Black Friday and stated that it will be putting deals live from 12.01am on 27 November, as well as updating its social media accounts on Facebook, Twitter and Instagram with deals throughout the day.
IWOOT says that it will be offering bargains on a whole range of tech products including smartphone gadgets, portable speakers, kitchen appliances, headphones, popular remote control toys including drones and the hugely-anticipated Star Wars BB8 robot.
The retailer also says that it will be continuing its sales on Cyber Monday, on 30 November, and all deals purchased during the promotional period over £10 will be subject to free shipping within the UK.
We here at IBTimes UK will be keeping our eyes peeled for the latest deals and discounts to be offered by IWOOT. These often leak before Black Friday itself, and we will update this article as and when we spot them.
For more Black Friday deals and discounts, visit the IBTimes UK Black Friday hub