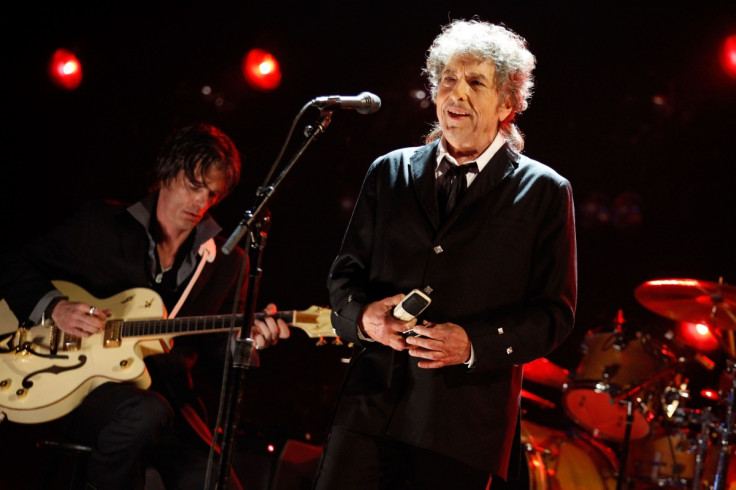 Legendary musician Bob Dylan has sold 6,000 items from his personal archive of notes, draft lyrics, poems, artwork and photographs to the University of Tulsa for a sum thought to be between $15m and $20m (£10m - £14m). The expansive collection includes master recording tapes of Dylan's entire music catalogue accompanied by hundreds of hours of rare film.
The extensive works were acquired by the George Kaiser Foundation and the University of Tulsa and will be made available to scholars and curated for public exhibitions. The collection spans almost the whole of Dylan's 55-year career with many of the items never having been seen before.
They include two notebooks with lyrics from the revered 1975 album "Blood on the Tracks," and handwritten lyrics to his 1964 song "Chimes of Freedom" written on hotel notepaper complete with cigarette burns.
Revealing letters between himself and 1950's Beat Generation poet Allen Ginsberg are also included. Neither the foundation nor the university said exactly how much they paid for the artefacts but the New York Times affirmed it was sold for $15m to $20m (£10m - £14m).
"I'm glad that my archives, which have been collected all these years, have finally found a home and are to be included with the works of Woody Guthrie... To me, it makes a lot of sense and it's a great honour," Dylan said in a statement according to the New York Post.
Known as "the voice of a generation" for his popular counter-culture songs of the 1960s and 1970s, the 74-year-old's collection attracts high prices as much of it has rarely been seen. In 2014, a handwritten draft of Dylan's seminal song 'Like a Rolling Stone' sold for more than $2m (£1.2m at the time) at auction, making it the most expensive rock music manuscript of all time.
The hugely popular 1965 song sold at auction house Sotheby's in New York for $2.05m (£1.05m) to an anonymous bidder. The manuscript was described as "the only known surviving draft of the final lyrics for this transformative rock anthem".