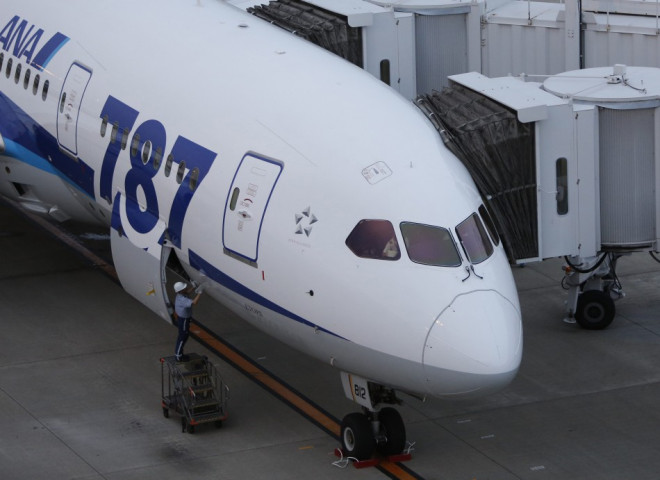 Aircraft maker Boeing has said it discovered cracks in the wings of about 40 787 Dreamliners in production in a fresh blow to the model, the entire fleet of which was grounded last year due to a battery glitch.
The company noted that it would not alter its plans to deliver 110 Dreamliners in 2014, but deliveries planned for the first quarter could be delayed. It added that the planes in use by airlines are not affected by the issue.
"We are confident that the condition does not exist in the in-service fleet," Boeing spokesman Doug Alder said.
"We understand the issue, what must be done to correct it and are completing inspections of potentially affected airplanes."
The news about the "hairline cracks" on wings produced by Japan's Mitsubishi Heavy Industries was firstly reported by the Wall Street Journal.
Mitsubishi Heavy Industries earlier told Boeing that a change in its manufacturing process may cause cracks, the WSJ reported, citing a Boeing spokesman. Subsequently, the company conducted inspections and found the issue on some jets.
The problem "stems from fasteners used to connect aluminium shear ties on the wing ribs to the carbon fibre composite wing panel, two people familiar with the situation told the newspaper.
Inspections are taking place at Boeing's plants in Washington and South Carolina and at the Mitsubishi's plant. Boeing has outsourced much of the manufacturing of the Dreamliners and a third of the total component suppliers are from Japan.
Dreamliner Woes
Since its first flight in December 2009, Boeing's flagship Dreamliner aircraft that was largely made of carbon-fibre composite suffered from a number of problems, damaging the aircraft maker's reputation across the globe.
The entire global fleet of 50 Dreamliners was grounded in January 2013 following unrelated accidents on two planes operated by Japanese carriers ANA and JAL.
On 7 January, 2013, a JAL plane caught fire at Boston's Logan International Airport. And nine days later, an ANA aircraft made an emergency landing in Japan, citing battery problems.
Boeing modified the batteries and flights resumed in April. However, further problems surfaced throughout last year, putting passenger safety at risk.