Boeing's long-rumoured "Black" Android spy smartphone, which has the ability to self-destruct if tampered with, will soon be a reality, according to a patent filed by the aerospace and defence contractor.
News of the handset was first leaked two years ago. The patent documents listed on the Federal Communications Commission (FCC) website and first spotted by Myce, describe a phone that looks like it came straight out of Q's laboratory in a James Bond film.
The Boeing Black (H8V-BLK1) is a dual-SIM smartphone that supports GSM, WCDMA and LTE frequencies (i.e. 2G, 3G and 4G) using micro SIM cards. The handset also supports Wi-Fi and Bluetooth, and comes with USB and HDMI ports.
In order to prevent tampering, the handset features epoxy around the casing and screws covered with some sort of "tamper-proof covering".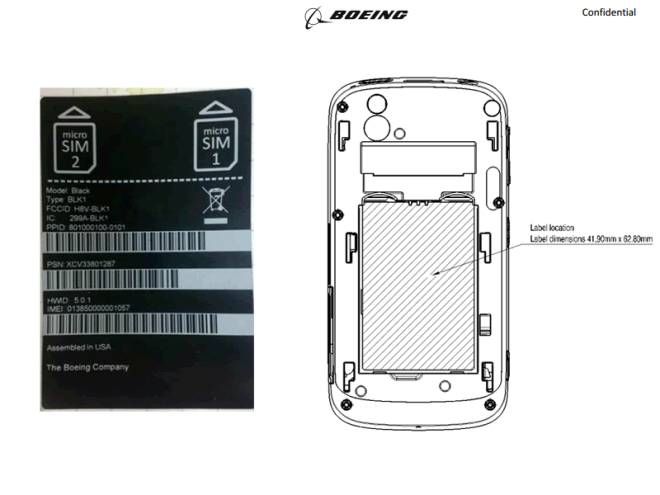 "Boeing's Black phone will be sold primarily to government agencies and companies engaged in contractual activities with those agencies that are related to defence and homeland security," a letter from Boeing's lawyers included in the patent filing explains.
"The device will be marketed and sold in a manner such that low-level technical and operational information about the product will not be provided to the general public. Detailed technical information distributed at trade shows will be limited or protected by non-disclosure agreements."
Would-be buyers have to sign an agreement with Boeing that protects the hardware, software, applications and components of the handset, preventing users from reverse-engineering the invention by opening up the phone to get a closer look at how it is made.
"Any attempt to break open the casing of the device would trigger functions that would delete the data and software contained within the device and make the device inoperable," Boeing states in the purchase agreement.
Apart from the single diagram on the website, no other photographs or product details are available.