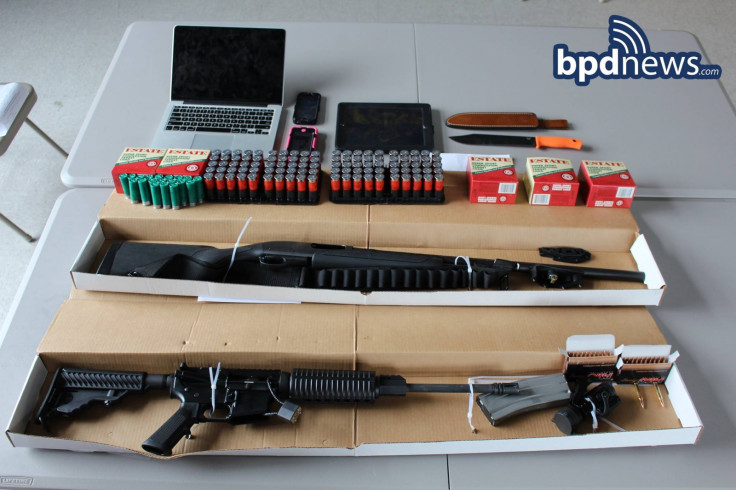 Two heavily armed Iowa men were arrested by Boston Police after allegedly making violent threats over social media directed at people attending the Pokemon World Championship. The two men were detained by police on suspicion of illegally possessing an AR-15 rifle, shotgun and hundreds of bullets, police announced on 23 August.
The men, identified as 18-year-old Kevin Norton and 27-year-old James Stumbo, were stopped from entering the championship at Boston's Hynes Convention Center on 20 August. Police were alerted that the men were in possession of several firearms in their vehicle, leading authorities to seize the vehicle.
According to the Boston Police Department, detectives executed a search warrant for the vehicle on 21 August. In the vehicle, police discovered a 12-gauge Remington shotgun, one DPM5 Model AR-15 rifle, several hundred rounds of ammunition and a hunting knife. The two suspects, who had been released pending a search warrant, were arrested in a hotel in Saugus.
Reuters reported that the men did not have a proper licence to carry the guns. The two are to be arraigned at the Boston Municipal Court.
"The relationship between police and private sector security is important in both our community policing philosophy, as well as our counter-terrorism strategy," said BPD Bureau of Intelligence and Analysis Commander Superintendent Paul Fitzgerald.
"This incident is a good example of private security reaching out to their local Boston police district and relaying information to detectives and BRIC analysts in order to identify the very real threat. The BPD detectives and collaborating agencies did a great job in the stop and prevention of a potential tragedy."
The Pokemon World Championship is a playing-card and video game competition, Reuters reported. The event ended on 23 August.