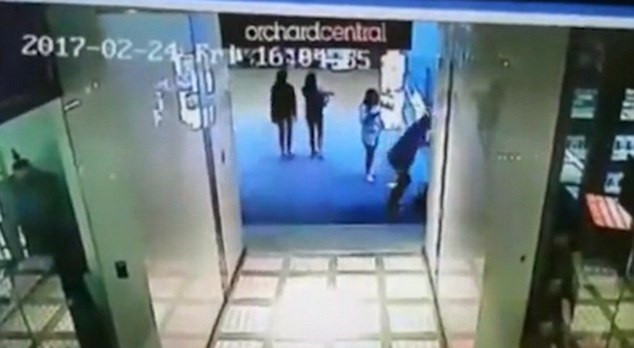 A teenager fell to his death at a Singapore shopping centre as his friend filmed him attempting a stunt.
Jonathan Chow, 17, plummeted from the fourth floor of the mall as he vaulted over a glass barrier onto a ledge, after asking his friend to film him for a Snapchat video.
However, the ledge was made of plasterboard casing, and collapsed under his weight when he landed on it.
Horrified passerbys, who witnessed the scene attempted to help Chow, who fell onto a linkway between the Orchard Central and Orchard Gateway, but he succumbed to his injuries and died in hospital.
The shocking incident was caught on the shopping mall's CCTV video.
His heartbroken friend, Ruth, told Today Online: "We both thought the ledge was made of concrete, but when he jumped, he fell straight through. I knew it was dangerous, but before I could stop him, he already jumped over.
"I swear I wanted to jump over too but I knew it was too late. His last words before he died were: 'Help me take a Snapchat video and I'll jump,' she added.
The teenager, who had studied in Australia, had recently returned to Singapore to complete his national service. Friends revealed that Jonathan was a skilled skateboarder and regularly filmed his stunts.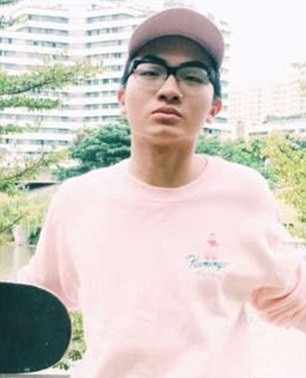 His father Matthew Chow told the Straits Times: "He was a friendly guy, sociable and approachable ... he was about to be enlisted for national service and was looking forward to it, but now he won't be able to serve the nation."
The grieving father has said he has since visited the shopping centre to discuss safety concerns. Mavis Seow, chief operating officer at the company which owns the centre said safety measures will now be reviewed, Mail Online reports.
"The glass railing along the link bridge is 1.2m high and acts as a safety barrier for members of the public. It also prohibits access to the plasterboard box-up, which is an interior architectural treatment," she explained.
"Together with our building consultants, we are currently reviewing if any other measures, in addition to the glass barrier, are required. In the interim, our security officers will be patrolling the various link bridges at more frequent intervals."