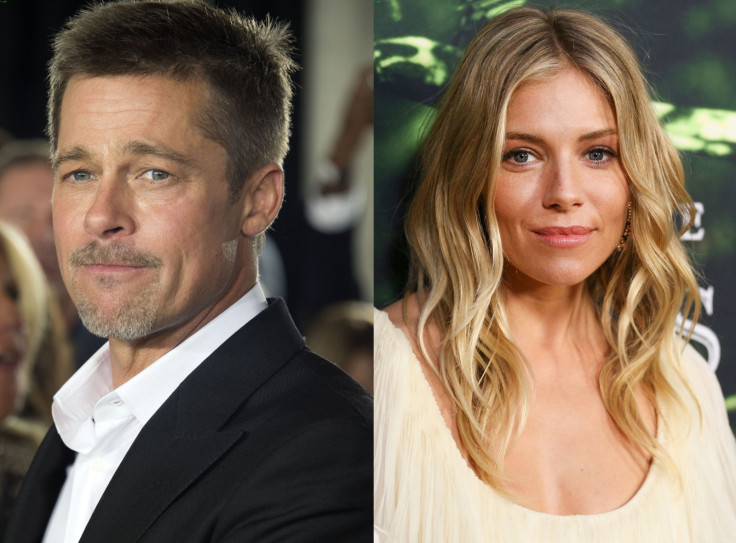 Romance rumours surrounding Hollywood duo Brad Pitt and Sienna Miller have once again resurfaced despite the actress previously shutting them down as "predictable and silly".
Most recently, the whirlwind dating talks were sparked by the pair's outing at the Glastonbury music festival, where they allegedly got intimate during a VIP party. According to The Sun, Pitt and Miller were spotted holding hands and cuddling up to each other at the late night party on Worthy Farm.
"Brad and Sienna couldn't keep their hands off each other, touching and stroking each other at every opportunity. They seemed really intimate," the unverified report quoted a source as saying.
Apparently, the two caught up during the wee hours on Saturday at the festival's Rabbit Hole Area, looking all cosy in each other's company.
The publication's source claims, "Brad had been keeping a relatively low profile at the festival, but emerged with the masses at 3am to link up with Sienna after she'd spent the night partying with their mutual pal Bradley Cooper and Noel Gallagher in the VIP Park backstage bar."
Following their reunion, the actor duo was allegedly headed towards the festival's underground and exclusive venue to stay away from the prying eyes. However, seems like their party didn't last long.
"The party was cut short and they had to leave after five minutes because the venue was closing. Bradley Cooper left and Brad and Sienna headed back arm in arm to their private Winnebego," the alleged source explained.
The dating rumours, however, were reported by another UK publication as well. Dishing on the hush-hush romance, an onlooker gushed to Daily Star Online, "Brad and Sienna were looking very cosy... I couldn't believe it - they were kissing in the VIP section of the Rabbit Hole."
While speculations surrounding the two have been rife since April – reports claimed that Pitt was flirting with The Lost City of Z star at their film's Los Angeles premiere – Miller had rubbished them at the time.
"I'm not going to even dignify it with a response," she had said responding to the gossip at a Cinema Society screening of her new movie. "It's predictable and silly."
Before being linked to the 35-year-old actress, Pitt was married to Angelina Jolie until they parted ways last September. On the other hand, Miller split from her fiancé Tom Sturridge in 2015.