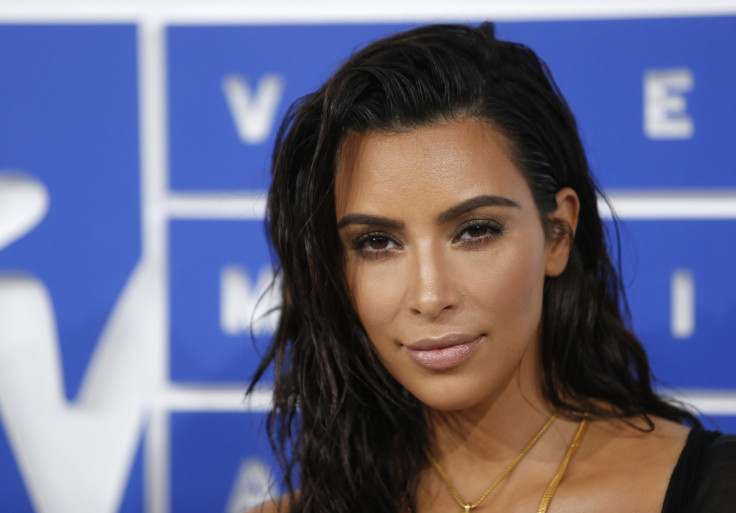 Kim Kardashian has become the latest celebrity victim of infamous red carpet prankster Vitalii Sediuk. Just days after he ambushed model Gigi Hadid, the Ukrainian presenter took aim at Kardashian's famous bum at Paris Fashion Week.
Kardashian, 35, was outside the offices of fashion designer Balmain on 28 September when Sediuk suddenly lunged at her rear. Within seconds and before he could pull off his prank successfully, Sediuk, 27, was pinned to the floor by several members of Kardashian's security team.
Providing a poor excuse as to why he ambushed the Keeping Up With The Kardashians star, Sediuk wrote on Instagram: "I was protesting Kim for using fake butt implants. I encourage her and the rest of Kardashian clan to popularise natural beauty among teenage girls who follow and defend them blindly." He also claimed that his being in the same vicinity as Kardasian at the same time was mere coincidence.
While Sediuk is impressed with what he claims to be an impromptu prank, Kardashian clearly is not. E! reveals that the reality star has filed a complaint with the French authorities while TMZ reports Kardashian is requesting a restraining order against Sediuk. With this is the second time Sediuk has pranked Kardashian, her petition is more than understandable.
After years of Sediuk virtually attacking other Hollywood A-listers at red carpet events, it is about time that his previous victims join Kardashian in complaining about his unacceptable antics. Just last week (22 September), Sediuk grabbed Hadid by the waist and carried her off the ground prompting her to elbow him in the face.
Defending her justly actions, Hadid wrote in Lena Dunham's Lenny newsletter: "Honestly, I felt I was in danger, and I had every right to react the way I did. If anything, I want girls to see the video and know that they have the right to fight back, too, if put in a similar situation."
In 2012, Sediuk planted a kiss on Will Smith's lips without permission at the Moscow premiere of Men In Black 3. In a TV interview, Sediuk did offer an apology to Smith, saying : "I apologise for my behaviour... I think it was too much. I just wanted to do something extraordinary to impress him."
This still did not stop him from continuing his pranks. In May 2014, Sediuk punched Brad Pitt in the face breaking the actor's sunglasses. This stunt landed Sediuk in serious trouble as he spent two days in jail and was given a restraining order. Other incidents include sticking his head up the skirt of Ugly Betty actress America Ferrera at Cannes and invading the stage while Adele was accepting an award at the 2013 Grammys.
Watch Vitalii Sediuk ambush Kim Kardashian:
Infuriatingly, Sediuk compares his gags to Ellen DeGeneres pranking guests on her daytime talk show. Sorry, but having someone jump out of a box is not the same as physically grabbing someone and carrying them away against their will. Neither is groping or striking them in the face.
Hopefully Kardashian's actions will spur Sediuk's other victims to band together and finally put a stop to the madness. It should not even have to be stated that nobody deserves to be touched inappropriately whether by strangers or those known to them. One day if he is not careful, Sediuk could seriously hurt someone – or himself – and who would be laughing then?