Fancy rapper Iggy Azalea bravely admitted to having breast implants recently, going against the celebrity trend of keeping quiet about their cosmetic enhancements. Speculation has circulated for years that the Australian musician - and many other female celebrities - have also had bum implants but most have strenuously denied this.
So why are some procedures viewed as more acceptable by society than others, and is cosmetic surgery taboo for celebrities more than it is for "regular" people?
Azalea, 24, told Vogue magazine for their April 2015 Shape issue that she had the boob job towards the end of 2014 as she was fed up of having to stuff her bras with padding.
What is probably most surprising about the revelation is that the Booty rapper willingly announced her surgery to the world as opposed to running with the lie that her body is all natural.
Her reasoning? "I decided I wasn't into secret-keeping," she told the magazine.
In the social media age where celebrities insist on pretending everything about their lives and appearances are perfect, isn't it refreshing to have a twenty something female who is honest?
Dr Alex Karidis, one of the UK's leading plastic surgeons who has worked with a bevy of famous faces, says that technology is responsible for pressuring those who are living life in the spotlight to go under the knife.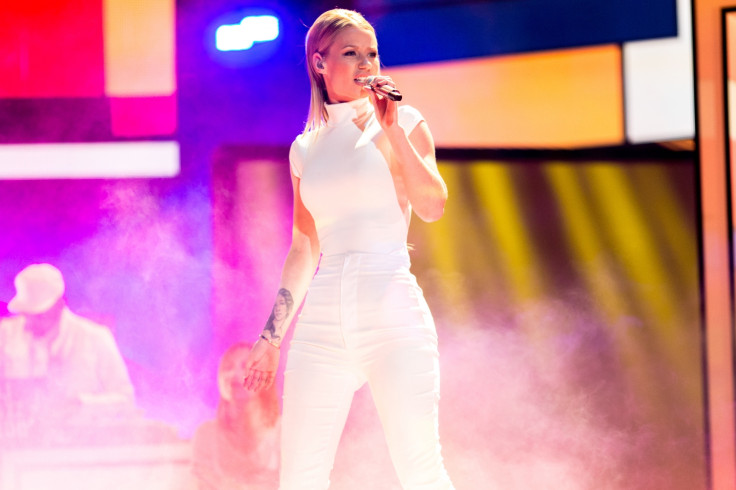 The surgeon told IBTimes UK: "[Celebrities] look at it differently [to regular people] because they are in the public eye and they see the camera is becoming more critical. The onset of high definition TV has made a difference because clarity is so precise, you can see every last little line, crease and wrinkle on people.
"So you can't fool them like you could before with previous TV. They are very much in-tune to this and they feel like they are being scrutinised and they need to look their best. So they have to keep up appearances, I guess."
For those who have had cosmetic enhancements, coming clean about their procedures understandably depends on the opinions of their inner circle of family and friends.
Hip hop star Azalea clearly was not worried about the reaction from those closest to her as she told Extra: "I knew so many people in my regular life that had done it and had a good experience, and I never see any celebrities talk about it. Although I know 80 percent of them have done it too."
Coincidentally, Dr Karidis' theory reflects Azalea's statement, as he believes: "If you are in a circle where nobody does it and they are an older generation then yes, they will be a little bit more sensitive to that and you will get worried about being criticised for doing it.
"Unless of course, a lot of your friends are doing it. It pretty much depends on the circles you move in."
Dr Karidis says that the most common procedures he performs at his London practice are facial and breast surgeries. However, there is a new type of cosmetic enhancement that is slowly beginning to dominate the industry - the bum job.
In 2013, the American Society of Plastic Surgeons report claimed that more than 10,000 bum augmentation procedures were performed that year, a 12 percent increase on the figures from 2012.
The procedures can be extremely dangerous and even fatal if not done by a qualified doctor but an increasing amount of women are turning to surgery to boost their behinds.
So why the fixation with bum jobs? According to Dr. Karidis individuals may be persuaded by certain stars "promoting" their derrieres "relentlessly".
The surgeon explains: "The Kim Kardashian bum. That's fine if that's what you like... [It is because of] people like [Jennifer Lopez] and Kim Kardashian. They seem to be promoting their rear ends relentlessly and [making] it seem cool to have a big bum... it rubs off on people who want to emulate their backsides."
Many women in the public eye including reality star Kim Kardashian, rapper Nicki Minaj and, of course, Azalea, are widely rumoured to have gotten all manners of bum jobs such as bum injections, bum lifts and bum implants.
Even if the speculation is true, none have admitted to it.
Dr Karidis points out that a reason for patients - and celebrities - keeping their bum jobs under wraps is simply because the procedure is just not common enough yet, particularly noting that the UK "is not a big bum nation".
By comparison, the doctor says that having a nose job is perhaps more accepted by society as people can "understand" wanting to fix such a prominent facial feature.
"Things like nose jobs are more acceptable. In the same way that you wouldn't want to walk around with crooked teeth. Why would you want to have a big honker that dominates your face? I think people can understand that," the surgeon explained.
"Those are more acceptable overall and people are used to it and [also], for some people, breast implants [are accepted as long as] the size you choose is not outrageous."
Is Azalea just one of an increasing amount of young people being open about their enhancements?
Dr Karidis says yes. Throwing another angle at the debate, he notes that typically, surgical augmentation was considered to be mostly done by older women to maintain a youthful appearance. But the surgeon claims young patients are getting "preservative" surgery.
He stated: "The younger generation is getting over that a little bit more... [there] is not anything great or particularly weird [about cosmetic surgery]."
Sure, the younger generation may not find it "weird" and breast implants may be the new norm but for now, the cosmetic surgery industry as a whole is still very much a taboo subject and celebrities will continue being coy about their procedures.
Ultimately, Dr Karidis reiterates that regardless of the reasons given for enhancing their bodies, the important message is that cosmetic surgery should only be done if it makes the individual happy.
He encouraged: "They [should] do it for themselves primarily, it is not a good reason to do it for somebody else because it is a losing battle."