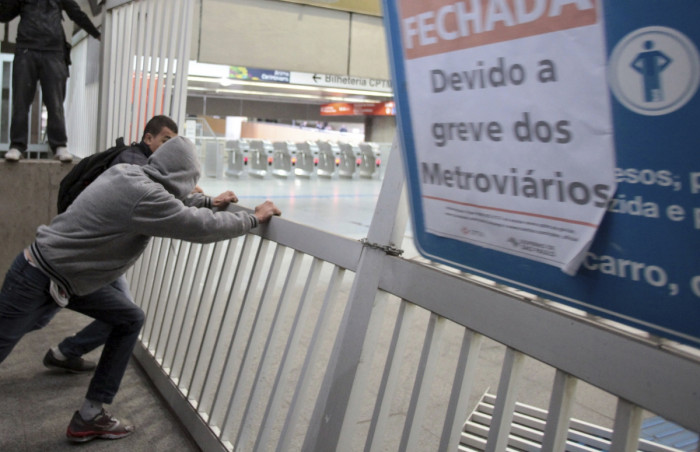 Riot police in Sao Paulo have fired teargas at striking subway workers at a Metro station, amid fears that ongoing industrial action may severely hamper the movement of supporters to games during the football World Cup, which opens in the city on 12 June.
"Ana Rosa station, one of the most central stations, was closed and numerous users tried to enter. Clashes broke out between picketing strikers and users and the police had to intervene with tear gas," said a spokesman for the military police.
Sao Paulo, with a population of 20 million, is Brazil's largest city. It has been brought almost to a standstill by strikes in the run-up to the World Cup finals. With many subway stations closed, some of the 4.5 million commuters who use the subway each day took to the bus network, contributing to huge traffic jams.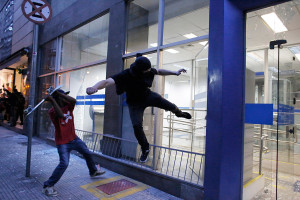 Last week a judge ordered transport workers to continue working but union leaders defied him, despite facing fines of £26,000 every day. The authorities have threatened to sack striking workers.
The build-up to the World Cup has been marred by violent street clashes by protesters claiming the country cannot afford to host the tournament and should be investing in the economy. Last week, 4,000 demonstrators marched on the Itaquerao stadium demanding more low-cost housing.
Although there have been riots in recent months they have been less ferocious than last year and many of the protesters are striking workers and homeless groups. Some locals are frustrated at the manner in which striking workers seem to be using the World Cup for their own ends and believe the country should enjoy the honour of being hosts to the world's premier sporting competition.
Coffee shop owner Silvia Rodrigues da Silva voiced irritation at the chaos. "The strikes are getting on my nerves. The underground station nearest my house was closed so I had to wait for more than an hour to get into an overcrowded bus to come to work."
However, union leaders are unapologetic. Prazeres Junior, a spokesman for the metro workers' union, said: "How come they have funds for Itaquerao and the Cup and no money for public transport?"