ABQ, a Breaking Bad-themed cocktail event, has opened its doors in Hackney, east London, inviting fans of the show to 'cook' their own cocktails in an old RV.
The cocktails, created with the help of mixologists from London's Worship Street Whistling Shop, are made in groups in the caravan, which is kitted out with lab equipment and props seen in the show.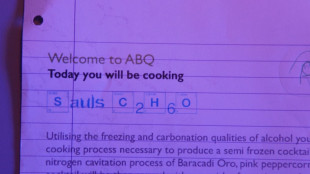 For £30, guests will get to mix two cocktails, and there will be plenty of photo ops for the social-media conscious. With more than 30,000 people signing up for tickets and most dates already sold out, organiser Seb Lyall explains why people are hooked on the idea: "It's a very hands-on, interactive kind of an experience".
The cocktails on offer, entitled Saul's C2H6O Sorbet and Blue Flynn, are mixed using ingredients such as nitrogen and dry ice.
Lyall, who also created the Annie the Owl event in London earlier this year, says that while Breaking Bad is the underlying theme of the pop-up, combining it with molecular mixology makes it a more interesting experience than a regular night out.
The event is planned to run until October, and fans can even buy a Breaking Bad-inspired cookbook featuring the recipes developed specifically for the event.