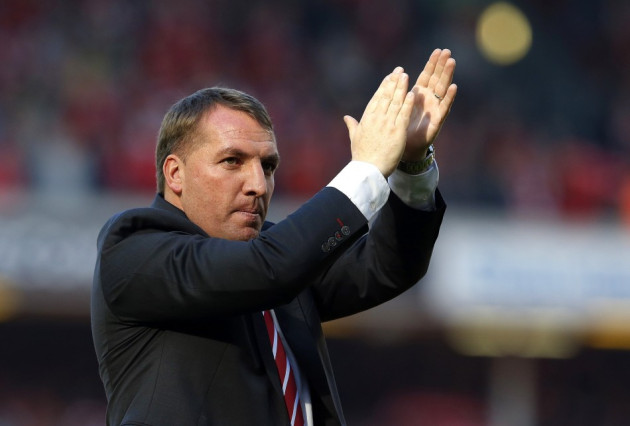 Ian Ayre, the Liverpool managing director, has warned manager Brendan Rodgers must demonstrate progress to owners Fenway Sports Group in order to keep his job but is not under pressure to end the club's four-year Champions League absence.
Rodgers was appointed in June 2012 and signed a three-year contract with The Reds.
After a difficult start he guided Liverpool to seventh in the Premier League in his opening season - an improvement on the eighth place finish achieved in the previous campaign - and begun his second term with three successive league wins including over champions Manchester United.
The club's number one priority remains qualifying for the Champions League, a competition in which despite being British football's most successful side with five victories, Liverpool haven't featured in since 2009 and have failed in four successive seasons to qualify.
Liverpool have spent upwards of £109m combined in the three transfer windows since Rodgers' move from Swansea City and after retaining wantaway striker Luis Suarez this summer after rejecting two offers from Arsenal, a top four assault is expected.
While admitting playing top tier European football is an ambition for Liverpool, Ayre says Rodgers must provide evidence of evolution in order to remain in the Merseyside hotseat.
"We base Brendan's performance on progress," Ayre said.
"We don't say to him that you have to finish in that position, you've got to achieve this.
"We set a very clear plan with Brendan when he came into the club. We were very clear and had a very open discussion with him about what the club's ambition was and what we wanted him to come in and specifically do and he's moving forward in all those areas.
"As long we keep progressing and we can see he's moving the club towards where it wants to be then he'll be the Liverpool manager.
"It's not about individual positional targets it's about him improving Liverpool football club and our opportunity to get back to where we believe we should be."
Liverpool finished 12 points adrift of the top four last season but signed eight new players during the summer transfer window.
But perhaps the most significant deal of the off-season involved retaining Suarez - a scorer of 30 goals in all competitions last term - who eventually made a u-turn in his wish to leave Liverpool after the club stated he was not for sale.
Following a 10-match ban for biting Chelsea's Branislav Ivanovic Suarez made his first appearance of the season in the League Cup defeat to United at Old Trafford and Ayre says the primary motivation for keeping the hothead forward, whose career in English football has been littered with controversial moments, was linked to attaining Champions League qualification.
"This football club is the most successful British club in that competition in the European Cup and the Champions League so we absolutely want to and expect to get back there," Ayre, who joined Liverpool in 2007, said.
"Last season we were happy that we improved the group and the squad and we've had a good start and it looks good so far.
"We hired Brendan to change our philosophy and how we play football and to start something that we're all committed to," he added.
"If you're committed to that then someone like Luis Suarez is exactly who you need because of his ability and what he can achieve so it was never our ambition to change that and as I say he's still there and that's the end of it."