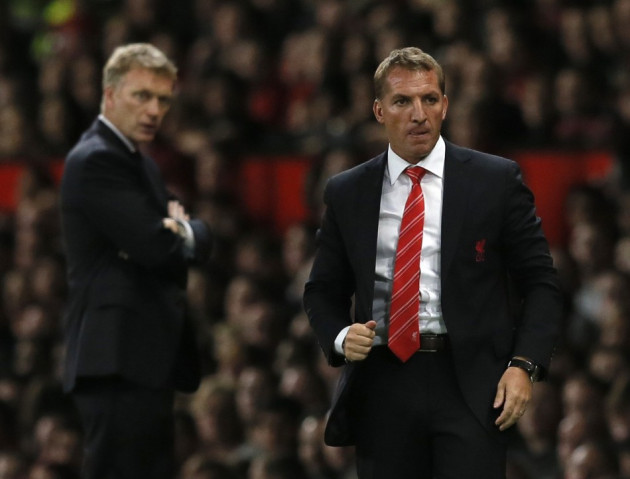 Liverpool manager Brendan Rodgers criticised his side's defensive concentration and attacking end product after being knocked out of the League Cup by Manchester United.
The visitors dominated for long periods but succumbed to a sucker punch 40 seconds after half-time as Javier Hernandez converted Wayne Rooney's corner to send United through to round four where they face Norwich City.
After Liverpool lost their unbeaten Premier League start to Southampton at the weekend via Dejan Lovren's headed goal from a corner, Rodgers labelled his side's defending as "criminal" and the Northern Irishman was equally as damning in his assessment after defeat at Old Trafford.
"It was a very close game - decided on a corner at the beginning of the half that we're disappointed with," Rodgers told Sky Sports.
"It just drops into the six-yard box and it's very disappointing to say the least. The players put everything into the game and it was about very small margins and we're just really disappointed with a really loose goal from a deadball situation."
Luis Suarez, making his first appearance since serving his ten-match ban for biting Branislav Ivanovic, hit bar with a free-kick and Victor Moses forced David de Gea into a reflex save from a diving header but Liverpool were unable to add a finishing touch despite their supremacy.
As Liverpool fired a blank for the second game in succession and continued the trend of not scoring in the second half of matches this season, Rodgers lamented his side's decision making in the final third.
"The players have given everything," he added. "They had a few days to prepare to a change in system and I thought the players' player it really, really well.
"In the second half in particular we had numbers going forward and created some opportunities but couldn't make the final pass count and didn't work the keeper enough.
"I think we got into some really good areas high up the pitch and maybe made the wrong pass or decision and sometime we were in some good positions but didn't work the keeper enough.
"De Gea made a great save [from Moses] in the second half as well which looked like it was going to be goal."