British Airways places human alligator on Gatwick airport runway to promote offers to Florida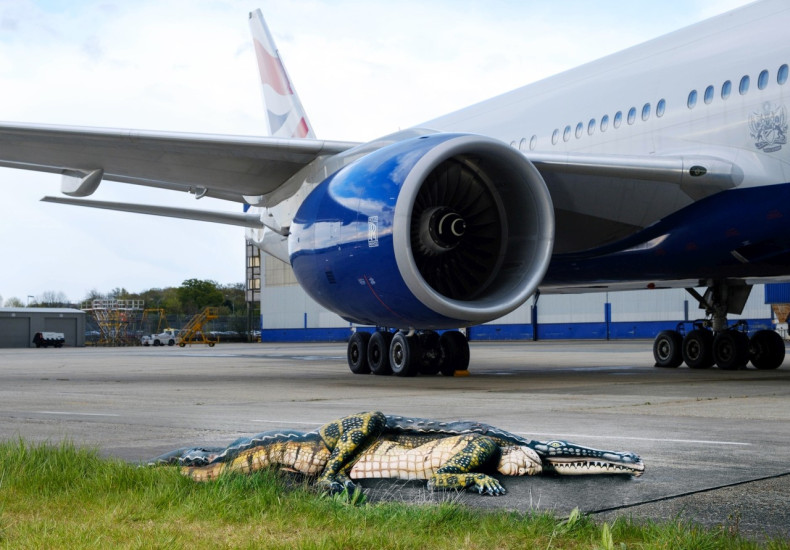 As part of a new marketing campaign, British Airways is using models body-painted to look like alligators to promote its service to Florid. The UK flag carrier placed the human alligator on Gatwick airport runway to promote its flights and holidays to the Sunshine State, which is known for its high alligator population.
The campaign is targeted in particular to increase sales of its four-night holiday offering to Tampa, a city in Florida. While BA's website describes the American city as "something for everyone" its Florida promotion reads: "Get ready for adrenaline-pumping rides and thrilling attractions at Busch Gardens Tampa theme park. Discover the thriving cultural scenes of Sarasota and Bradenton. Or slow down and stretch out on the pristine beaches of St. Pete and Clearwater, or Fort Myers."
Adam Daniels, chief commercial officer at BA said, "British Airways has some fantastic deals to Florida available for customers to snap up as we fly to both Tampa and Orlando from Gatwick Airport. For those wanting to see some real alligators, customers can book an experience through British Airways Holidays and head to the Everglades National Park."
The body painting artist, Johannes Stoetter, who spent around 5 hours in transforming three models into alligators said, "I love a new challenge and when British Airways asked me to create an alligator I couldn't wait. I normally paint and photograph my artwork in a studio, so to see my artwork in front of one of the airline's planes on a runway was a truly great experience and possibly one of the most challenging yet."
The BA campaign coincides with Tampa's efforts of attracting more international visitors. With regards to the promotion, Santiago Corrada, CEO of Visit Tampa Bay, the official marketing arm for the American city said, "We thoroughly enjoyed this funny and creative approach to drawing visitors to Tampa Bay and Florida."
British Airways flies from Gatwick to Tampa seven times a week. Other cities in Florida the flag carrier has services to include, Orlando and Miami. While it connects Gatwick to Orlando 13 times a week, it operates 14 flights from Heathrow to Miami, per week.