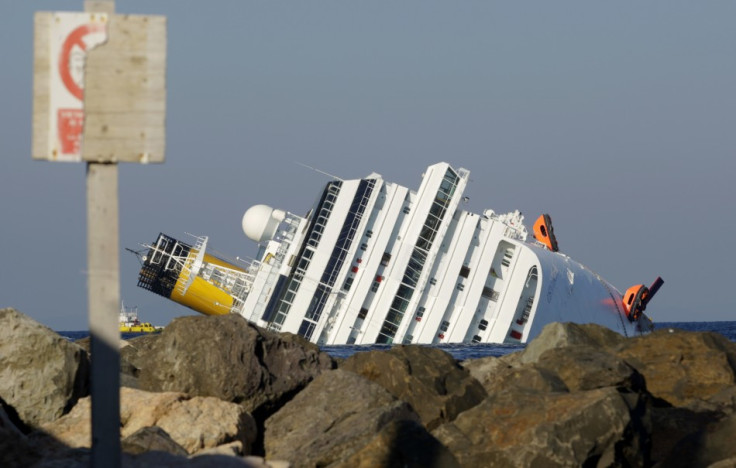 No British casualties are reported in the Italian cruise ship disaster yet. Three people have already been reported dead in the tragedy.
However, up to 41 people are still believed to be missing in the tragedy that struck the luxury cruise late on Friday night.
About 30 British nationals were said be on board Costa Concordia when it hit a submerged rock near the holiday island of Giglio. Many British artists and entertainers were also part of the crew of the luxury ship.
It was a harrowing experience reminiscent of the Titanic tragedy for the passengers on board the vessel, which included pregnant women, children and elderly people.
People were seen leaping into the sea, fighting over life jackets, cutleries and utensils rolling down the decks, bringing back the memories of the Titanic sinking which most of them must have watched in cinemas.
"People were trying to steal lifejackets from each other. We could only get ones for children," Reuters has reported quoting 65-year-old Antonietta Sintolli as saying.
"We heard a loud rumble, the glasses and plates fell from the tables, the ship tilted and the lights went off," another passenger Luciano Castro told the news agency.
"What followed was scenes of panic, people screaming, running around the place. Close to us a five-month pregnant young woman was crying and panicking," he added.
Ian and Janice Donoff, a British couple who were on a honeymoon trip on the Costa Concordia, said they were enjoying a magic show when the lights went off simultaneously with a large scraping sound , the BBC has reported.
"Panic really got in. We realised we had to get out on to the side of the ship, which was now nearly 90 degrees," the BBC has quoted Ian as saying.
"It's the most frightening thing coming down on a rope ladder by the whole side of the ship clutching on for dear life... it was an unbelievable ordeal," he added.
The consular team from the British embassy in Rome is providing necessary assistance to the Britons involved in the tragedy.
British nationals can contact the UK embassy in Rome on (+39) 06 4220 0001 or the Foreign Office in London on 0207 008 1500.
Also read: Three People Confirmed Dead in Italy Cruise-Ship Tragedy: Coast Guard [PHOTOS]