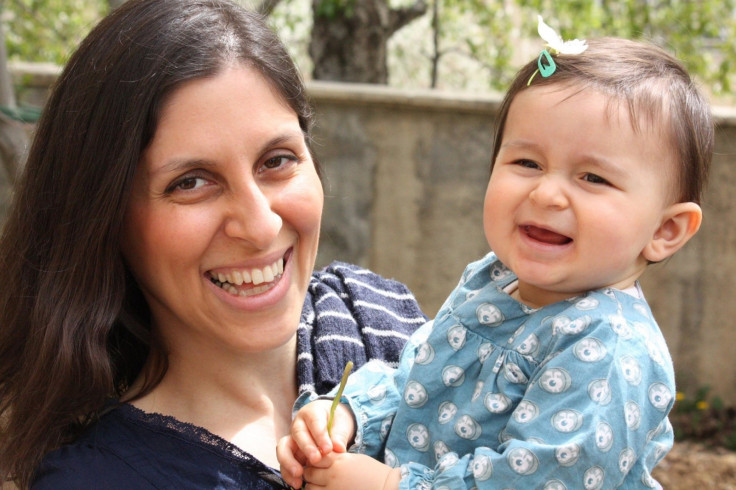 A British-Iranian mother has been jailed for five years in Iran on "secret charges", her husband has said.
Nazanin Zaghari-Ratcliffe, a charity worker for the Thomson Reuters Foundation, had been detained for more than 150 days after she was accused of plotting to topple the Iranian regime.
The 37-year-old, from West Hampstead, north-west London, was arrested on 3 April at Imam Khomeini airport in Tehran as she attempted to return to Britain after a holiday visiting family with daughter Gabriella.
The young girl, who celebrated her second birthday in June without her mother or father, is being cared for by her grandparents in Tehran who speak little English.
Zaghari-Ratcliffe reportedly phoned her husband, Richard Ratcliffe, on Friday morning (9 September) to say she had been handed a five-year sentence by Judge Salavati of the Revolutionary Court on Tuesday.
The exact charges have not been revealed to her, her husband said, but were said by a prison guard to be "national security charges".
The sentence, expected to be served in Evin prison, came the day after the UK and Iran upgraded Embassy relations.
Ratcliffe, who has long protested his wife's innocence, branded the sentence "a punishment without a crime". He said his wife had suffered dangerous weight drop, lost some of her hair and became virtually unable to walk since being imprisoned.
Family members in Iran, who were due to meet Zaghari-Ratcliffe on Friday, have requested the decision be appealed. No date for the appeal has yet been set.
On the phone to her husband, the charity worker reportedly branded the conviction as "ridiculous", expressed concern at how long the appeal process could take and said she missed her daughter.
She said: "Do you understand what it is like to be a mother kept away from her child this long? I have missed over a fifth of her life."
Her husband said: "Nazanin's detention and charges have always felt like she and Gabriella are being held as a political bargaining chip for internal and international politics. The fact that she was sentenced with unrecognisable charges the day after the UK Embassy was upgraded makes this all the clearer.
"Why the Revolutionary Guard wishes to manoeuvre the judiciary to announce through me the sentence, but not the charges, I do not know.
He added: "I told her she has nothing to apologise for. Her head will always be high. She is much loved, over 800,000 people have signed her petition, and I have thousands of messages for her to read one day. They keep me going now. They will be so important for her journey back once this cruelty is over.
"I told her we so look forward to having her home."
Prime Minister Theresa May raised concerns about the case in August during a telephone call with President Hassan Rouhani.
Amnesty International, which has campaigned for Zaghari-Ratcliffe's release, said the case was a "complete travesty of justice", while Monique Villa, the CEO of the Thomson Reuters Foundation, where Zaghari-Ratcliffe is a project manager, said she was "convinced" of her innocence.