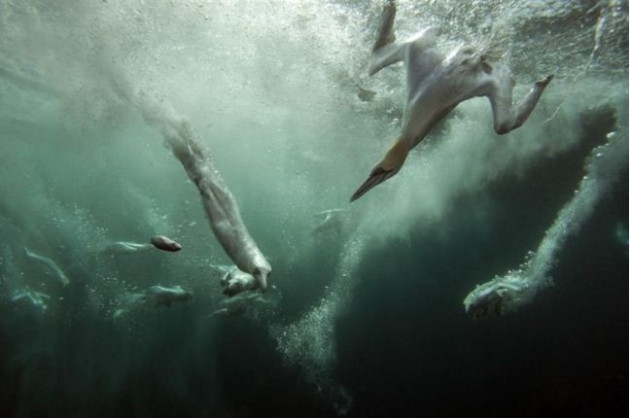 A photograph of a group of gannets (seabirds) diving into water has been declared winner of the 2012 British Wildlife Photography awards. The photograph, taken from below the water's surface, was snapped by Dr Matt Doggett and is titled Gannet Jacuzzi.
The 33 year old took the photograph from an undisclosed remote location off the north coast of Scotland and called the experience an incredible one.
Greg Armfield, the photography and film manager from World Wildlife Fund and one of the judges, described the photograph as a striking image that captured "the raw power and grace of the diving gannets".
The organisers said they received thousands of entries to the competition, which was spread over 12 senior categories and two junior awards. The number of entries was confirmed as the highest since the competition was launched in 2009 and special mention was made of the number of entries received from youngsters.
A book - British Wildlife Photography Awards: Collection 3 - with all the winning photographs will be on display at the Mall Galleries between 17 and 19 September, prior to a nationwide tour.
Winners:
British Wildlife Photographer - Dr Matt Doggett, from Southampton, for Gannet Jacuzzi
Animal Portraits - Neil McIntyre, from Aviemore, Scottish Highlands, for Red Deer Stag in Pine Forest
Urban Wildlife - Phil Jones, from Ceredigion, Wales, for Starlings Watching Starlings
Habitat - Alexander Mustard, from Southampton, for Grey Seal in Underwater Cave
Hidden Britain - Dale Sutton, from East Sussex, for Leap for Freedom
Coast and Marine - Dr Matt Doggett, from Southampton, for Gannet Jacuzzi
Animal Behaviour - Amanda Hayes, from Suffolk, for Herring Gull and Puffin
Wild Woods - Jeremy Walker, from Dorset, for New Forest in Autumn
Living Landscapes - Stephen Powles, from Devon, for Culm Divided
Wildlife in my Backyard - David Handley, for Wasp House Cleaning
Documentary Series Portfolio - Mark Hamblin, from Inverness-shire, for feature on Glen Tanar Estate in Aberdeenshire
British Seasons Portfolio - Jules Cox, for Snow Hare
Wildlife in HD Video - Raymond Besant, for Fulmars
Young People's Award WildPix Under 12s - William Briggs, from Tunbridge Wells, Kent, for his image of a chaffinch
Young People's Award WildPix 12-18 - Ashley Butterworth, from Cheshire, for his image of Arctic Terns