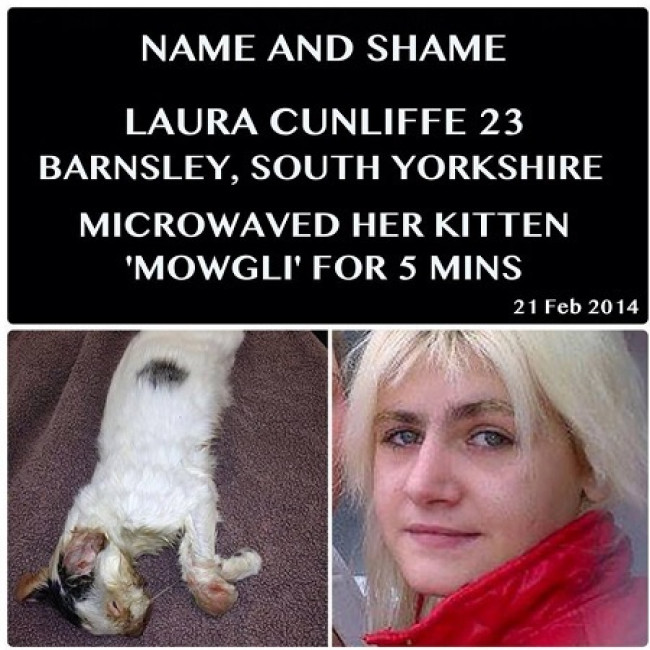 A woman has been jailed for 14 weeks by Barnsley Magistrates' Court after microwaving her cat.
Laura Cunliffe, 23, put Mowgli, her black and white kitten into the microwave and set it to cook for five minutes after it attacked her pet gold fish.
She then buried it after it died a slow and painful death.
Cunliffe, of Hoyland, Barnsley, who suffers from psychosis and depression, admitted one charge of causing unnecessary suffering to an animal at a previous hearing.
Amid screams from the public gallery, District Judge John Foster said he had to send Cunliffe to jail as a warning to others.
Mr Foster told the defendant: "This was an act of utterly horrendous cruelty on your part on an animal that, as far as I could see, had come to trust you and rely on you."
But as she was being led away in handcuffs one member of her family shouted: "She doesn't know what's happening - she hasn't a clue."
Another shouted: "This is a failure of medical services, judge."
The district judge described Cunliffe's actions as "inexplicable" and she was banned from keeping animals for life.
Cunliffe's solicitor, Alan Greaves, previously revealed she had been sectioned under the Mental Health Act several times.
Lynsey Harris, the deputy chief inspector for the RSPCA, said in the 13 years she has been in the job she had never dealt with a case like it before.
She said: "It is a particularly horrendous case because the period of suffering for the kitten would have been awful.
"The kitten was about four months old and the exposure to the radiation in the microwave would have cooked the animal's internal organs and that will have been pretty horrendous.
"It is a horrific case in the fact the death of the cat would have been prolonged and it is unimaginable what it would have gone through, taking some time to die."