Britney Spears Sports Bandage, Displays Wound On Leg And Back In Worrying Video
The singer had played with a couple of butcher knives in one of her dancing videos posted on Instagram.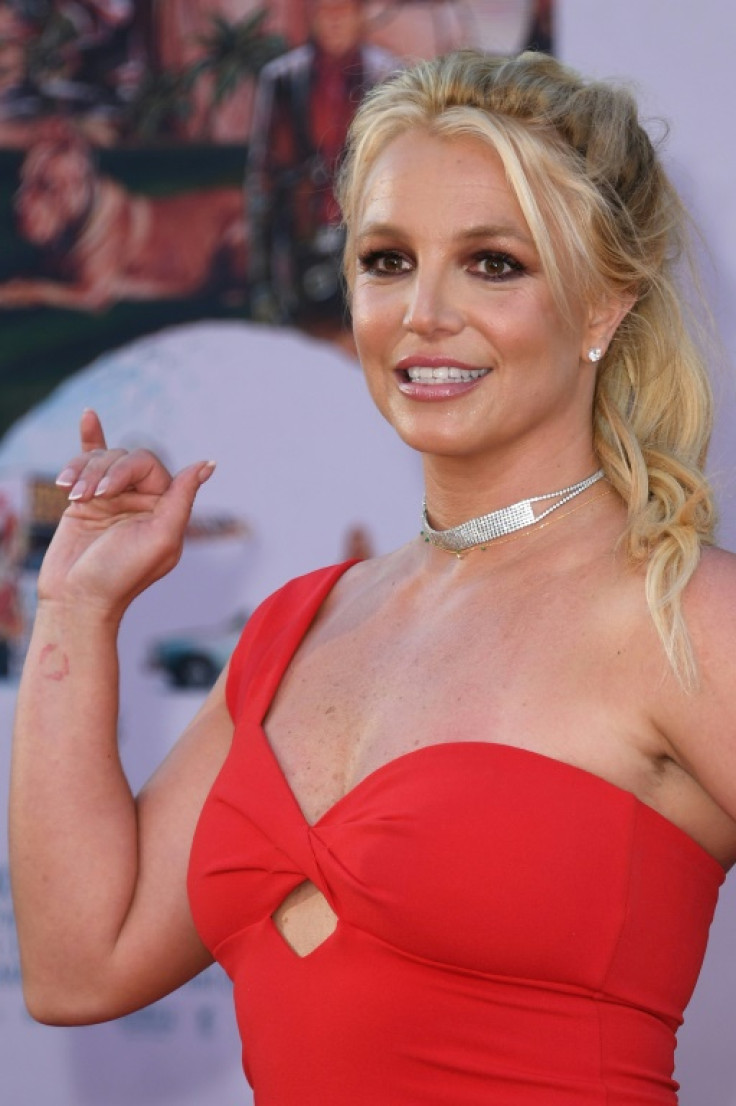 Britney Spears sported a bandage and what appeared to be a small cut on her leg in one of her dancing videos posted on social media on Tuesday. It came a day after she was seen in another clip playing around with knives.
The 41-year-old Grammy-winning singer appeared in the same outfit she wore on Monday's video, in a deep-cut orange top with white polka dots and in a white bikini. She twirled and did several hand movements as she danced.
But unlike in the previous clip, she was seen this time wearing a white bandage on her wrist. There is also a gash on the upper front of her right leg. A red mark also appeared on the lower part of her back which was not there in the previous video.
She captioned the post: "My 'Pretty Woman' top... kinda cool after my briefing on polka dots."
It is unclear how much time elapsed between the recording of the first and second videos. In Monday's clip, she concerned fans while dancing with two butcher knives in her hand. She even clanged them together to make a sound while she twirled.
But she assured fans in the caption that the knives are fake. She wrote: "I started playing in the kitchen with knives today!!! Don't worry they are NOT real knives!!! Halloween is soon!!!"
But fans were not convinced that they were not real especially when they made a sound. One commented on X formerly Twitter: "Are they fake tho they sound stainless steel to me but maybe they're not sharp idk."
A second wrote: "This is terrifying those are definitely not fake knives" and another chimed in: "I know she said they are fake but those things be CLANGING."
In her recent post, she addressed concerns about her dancing with the knives as she wrote: "Lighten up about the knives I'm copying Shakira." This time, the nick on her leg, the bandage, and the red mark on her hip are gone.
Spears reportedly "has had a fascination with knives," according to "TMZ Investigates: Britney Spears: The Price of Freedom". The documentary tells of her life in the year-and-a-half since her conservatorship ended in November 2021.
Insiders told the publication that as the conservatorship wound down, those who took care of the singer "prepared a list of recommendations" for her. These include "not driving alone" and to keep knives away from her.
She reportedly at one point slept with one under her bed as a means of protection, because she fears someone would "come in the middle of the night, strap her to a gurney, and take her to a psych ward". One source claimed that "she lives in constant fear of being re-institutionalised".
Her fascination with knives reportedly also concerned her ex-husband Sam Asghari. Insiders claimed after he filed for divorce on August 16 that she has these knives all around the house even in their bedroom because she was "paranoid someone was going to get her, and she needed the knives as protection". He was afraid she would "fly off the handle" at the smallest things.
Spears' sister, Jamie Lynn, also recalled in her memoir a time when her older sibling locked them both together in a room while holding a knife.
"She put the knife in the bedside table drawer and simply repeated, 'I'm scared'. I knew something was wrong and I was powerless to do something about it," she wrote in her 2022 book "Things I Should Have Said".
Spears has since vehemently denied her sister's recollection in a since-deleted post on X. She told her to stop telling "crazy lines" just to sell her memoir. The incident allegedly occurred n 2004, while the "Zoey 101" alum was just 13 years old and her older sister 22.
© Copyright IBTimes 2023. All rights reserved.