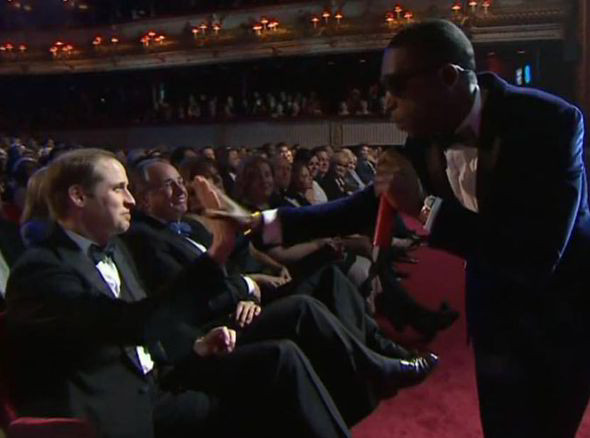 It looks like Tinie Tempah may have struck up an unlikely friendship with Prince William after his impromptu decision to high-five the royal during his Bafta performance.
Not only did the UK rapper stun viewers when he jumped off the stage and got up close and personal with royalty, but he managed to win over the Duke of Cambridge by doing so.
The 25-year-old star said that he received a warm response from Kate Middleton's husband following their interaction.
"It was all completely spontaneous," the Pass Out singer told the Daily Mail. "I just saw him sitting there in the front row and thought I'm going to high-five him, yeah. It was brilliant. I was just going with the flow and got such a positive response from everyone."
Tinie, whose real name is Patrick Okogwu, took to the stage with Laura Muvla at the Royal Opera House in London's Covent Garden, to perform a special rendition of Heroes.
William brought the royal flavour to the British Academy Film Awards and presented actress Helen Mirren with the Academic fellowship award.
After the ceremony, the pair shared another special moment.
Tinie added: "I saw him afterwards and gave him a little nod and a wink and he did the same back. I think he loved it.
"I didn't get the chance to speak to him, but I enjoyed it. Opening the Baftas was just amazing and something I never, ever thought would happen."
With William moving to London with his family this year, it may provide the perfect opportunity for their bromance to blossom.
Kate could soon be seeing a lot more of Tinie as he spends more quality time with his new blue-blooded pal.
Watch this space...