It was Bruce Springsteen's elated feeling after performing at the Super Bowl halftime show in 2009 with the E Street Band led him to write about his experiences.
Seven years later, the iconic musician had a whole 500 pages of thoughts and memories down in an autobiography called Born to Run (as if it would be anything else) and people are already obsessed with it.
Set to be released tomorrow (27 September) by publishers Simon & Schuster, the denim enthusiast's book is already a best seller topping the Amazon US charts without one copy having even reached a reader yet.
Available worldwide, the autobiography charts his life from growing up in Freehold, New Jersey amid the "poetry, danger, and darkness" and follows his unfailing determination to make it as a musician as well as the unprecedented success he had with the E Street Band.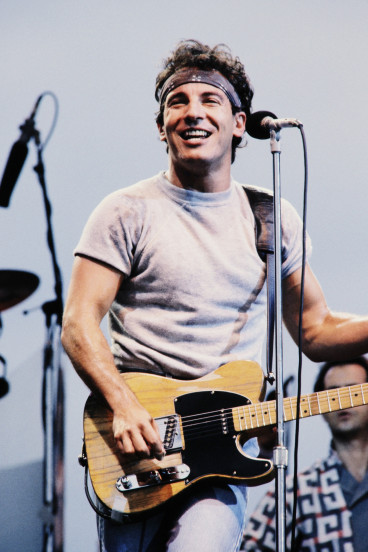 Within the pages of the book, Springsteen also opens up about the struggles that fuelled his determination as well as those that plagued his success, from his difficult relationship with his father to battling depression while playing with his band.
"I was crushed between 60 and 62, good for a year and out again from 63 to 64," he writes within Born to Run as he describes how we underwent therapy and courses of anti-depressants to deal with depression. The singer also said he managed to keep his condition secret from his band members but felt "crushed" while making the critically acclaimed 2012 album Wrecking Ball.
"Writing about yourself is a funny business," The Boss explains within his book. "But in a project like this, the writer has made one promise, to show the reader his mind. In these pages, I've tried to do this."
It seems that he has succeeded, with thousands ready to receive their pre-ordered copies upon its release tomorrow and a swathe of positive reviews. As Jonathan Karp, publisher of Simon & Schuster, puts it "This is the book we've been hoping for."
The legendary performer is as adept at writing prose as he is songs, clearly, as the words roll of the page just like his lyrics, telling stories behind the iconic lyrics of Born to Run and Born in the USA as well as showing parts of Springsteen's life that played out away from the stage.
As New York Times reviewer Dwight Gardner picks out of the book, 'he raised his three children without rock-star mementos in the house' quoting a passage about what The Boss told his children.
"My kids didn't know Badlands from matzo ball soup," Springsteen writes. "When I was approached on the street for autographs, I'd explain to them that in my job I was Barney (the then-famous purple dinosaur) for adults." His eldest son says, in shock, "Dad, that guy has you tattooed on his arm."
For those of who haven't pre-ordered your copy of Born to Run yet, you can get it now online.